Oh yes, St. Petersburg's summer nights is one of my favorites! I come back to my hometown each year for that and I think it deserves a short mention on my blog. Having lived in St. Petersburg most of my life, I have always been in love with the night-time embankments, beautifully lit city and drawbridges.
And if you are not a night time/party person, there is an alternative solution for you in the end of the post.
Bridges!
St. Petersburg is spread across many islands and has one of the largest amounts of bridges in the world – 342. Twenty-two of these raise at night. During the White Nights in Saint Petersburg, hundreds of people go to the city center to catch the moment when the bridges start to lift. It seems to be a ritual already.
The view of the Palace Bridge is one of the most recognized views of St. Petersburg. You can find it on many postcards, surrounded by old city buildings. The bridge was constructed almost a hundred years ago and is a wonderful piece of art and engineering (the drawing mechanism still contains original parts).
So if you are looking for things to do in summer- pick up your friends and go the city center at night.
White nights
Here is the deal, St. Petersburg is well advertised for its White Nights. I happen to know people who think that this happens only in St. Petersburg. Hmm… No! White nights is actually a "lighter" version of the midnight sun phenomena, that happens in the Arctic circle. If you tell people from far north of Russia about the White Nights – they will laugh at you.
And well, White Nights are beautiful (almost looks same as daytime, though), but when it is dark, you see all the lights and colorful reflection in the water. The peak of the white nights is around 20-22 of June. If you go not at these days, but 20 days earlier or later – you see everything in few hours: bright night, sunset, dark night, sunrise and bright night again.
Actually, if you are on Couchsurfing, they have the biggest (and I think best for the city) gathering called "St. Petersburg White Nights"
Non-stop party on Neva river
The best way to experience the atmosphere of the night city is to get on a ferry. At 1:30 AM, about a hundred ships gather at the starting point in the city center – next to the Palace bridge. They all start to move together when the first bridge starts to lift. All of the ships proceed at the same speed, going under the bridges as they start to lift. There is some sort of a party on every ship and because they go at the same speed, it creates a feeling that all the Neva river is moving together in non-stop fun!
If you want to sleep at night
If you are not a party person and prefer to sleep at night then you can take one of the excursions along rivers and channels. Depending on the route, it would go through all historical center and pass the Peter and Pauls fortress on Neva. (But this post about bridges), well, you will pass a lot of bridges as well, including many small ones.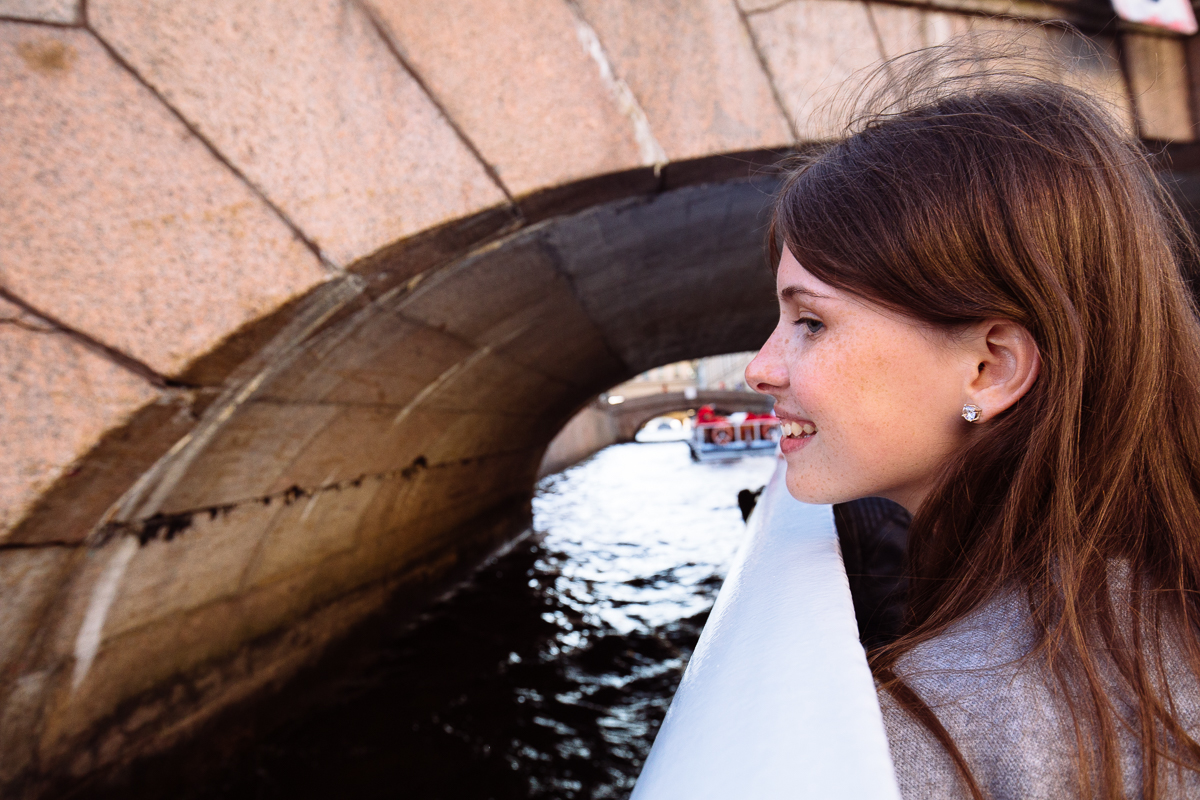 Few more photos
Thanks to Natasha Badukina, who actually works on the ships, for few more photos.