Introduction
He came to Finland from another side of the globe with 4k Eur in his pocket and ended up starting a successful small business. This post is about a guy from Venezuela, who runs his food truck in Helsinki. You would get to know his story, how to open a food truck and what Venezuelan food is like.
(Link to his page is provided at the end of the post)
Tell us your story, how did you end up in Finland?
I was born in a small town close to Caracas and in my last years there, I was working as a power plant operator. I fell in love with Finland, when I came here in 2011 for vacation.
In 2015, after the situation had worsened in Venezuela I decided to move here in Finland and try my luck.
Why Finland? I value the safety and the quality of life that Finnish people have created. Here, if you work hard, you are guaranteed to have a good life. And I also like the climate. In my city, the temperature is 32-35 degrees every day and it is extremely humid.
I came with around 4k Eur in my pocket and was living together with a friend, who I met during my previous visit. He was helping me to get familiar with Finland and to put the foundation for the business.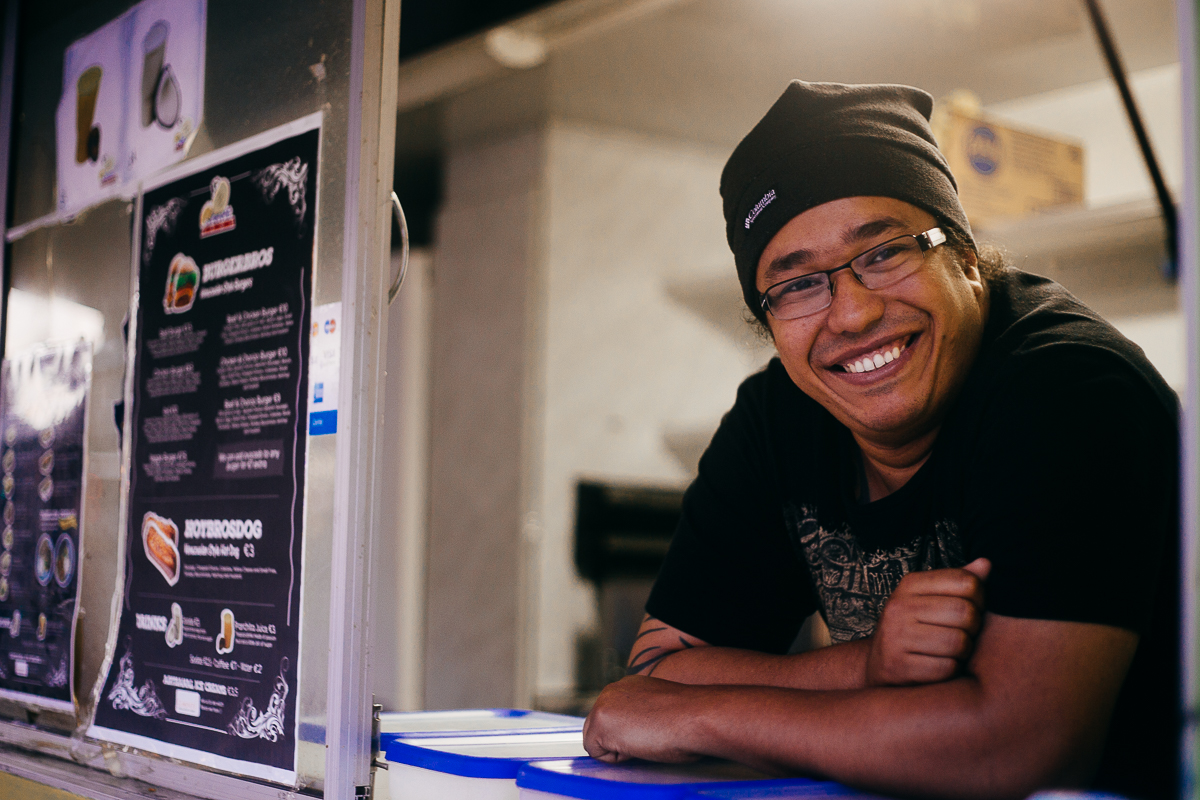 How to open a food truck business in Finland?
How did you come up with the idea of opening own food truck?
It was an idea of my friend. He told that Venezuelan food is something very exotic for Finland and that it is not sold anywhere here. There is a Venezuelan food restaurant in Helsinki, but they offer general Latin American food, rather than Venezuelan.
I decided to give the food truck idea a try.
How did you follow up?
The first step was to register a legal company and to make an application for an entrepreneur residence permission. It's worth mentioning, that if you don't have a permanent residency in Finland, to register a company you need to have a partner that has it.
At first, for about half a year, I worked together with another food truck owner. He was selling Tibetan momos and I was selling my Venezuelan arepas.
Together with him, I was making very little money, so it was a must to have my own truck.
How did you get your cooking skills?
At home, I was helping out my mother with a family restaurant. My mother was a great teacher!
So, you decided to have decided to have an own food truck, what happened next?
In winter, food truck (food) sales are low. I sent CVs to different restaurants, where I worked part-time.
In a meanwhile, I got to know a food truck owner, who was selling it. When winter was over, I bought the food truck.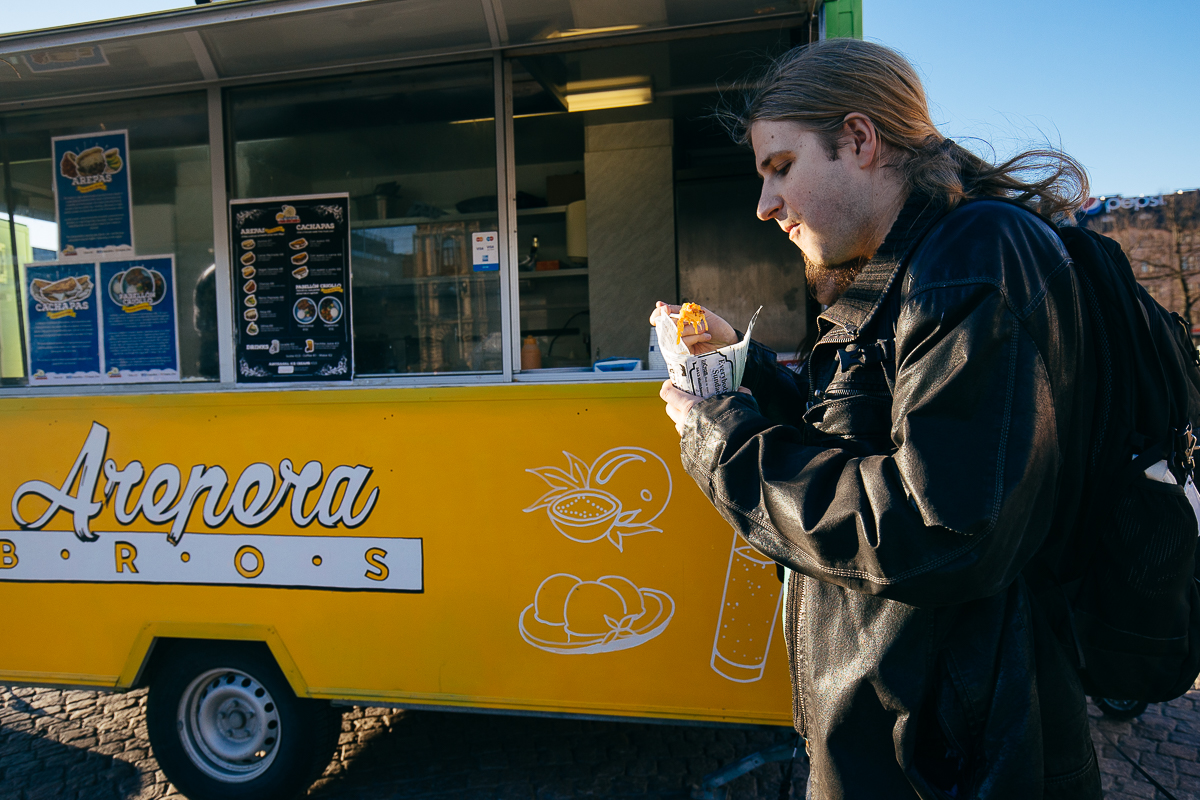 How much did the food truck cost?
It costs 11.000 Eur + taxes, I had to take a loan to cover part of the cost. I also rented a minivan for moving it, it costs 650 Eur per month.
What kind of other investments did you have to make?
The truck came already with gas grill and two fridges. I bought a microwave, food heater, electricity generator and other small kitchen equipment.
To start running the truck, you registered your legal company, what else did you have to do?
I registered the food truck. You have to make contact with the city to be able to sell on its territory. You have to pay 250 Eur per month.
As any person in the food industry, you need a hygiene pass.
What is special about food truck business, how is it different from running a restaurant?
It has less investment, but of course, profit is not same. I think that for new entrepreneurs, a food truck is a very good option.
Other difference is that you can sell anywhere. It means you can build relations with customers in different locations.
How do you build strong relations with the customers?
Mainly making the food, that makes them come back.
Also, the way you treat them is important, you have to be welcoming, talk to them about everything, make them feel comfortable while they wait for the food to be cooked.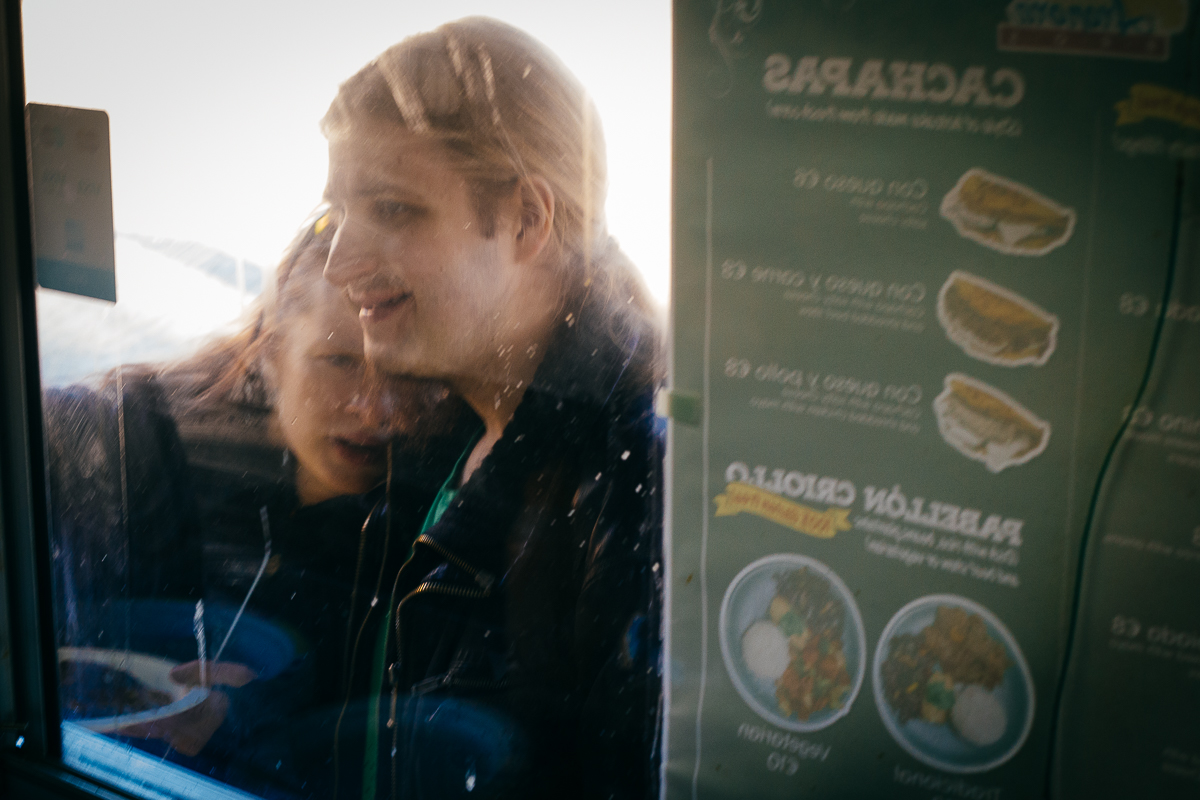 Besides food, advertising is very important. I do Facebook advertisement. It makes people know that you are around.
I give small flyers with my contact information and sometimes give promotions (get 10th lunch for free).
You sell in different locations; how do people get to know where you are?
I post my location daily on my Facebook page. Location depends on the season and selling opportunities. I work at lunchtime (between 11-13:30) in different locations and I work on Friday and Saturday nights at the Railway square. It is the best spot at night, many people are coming from the clubs.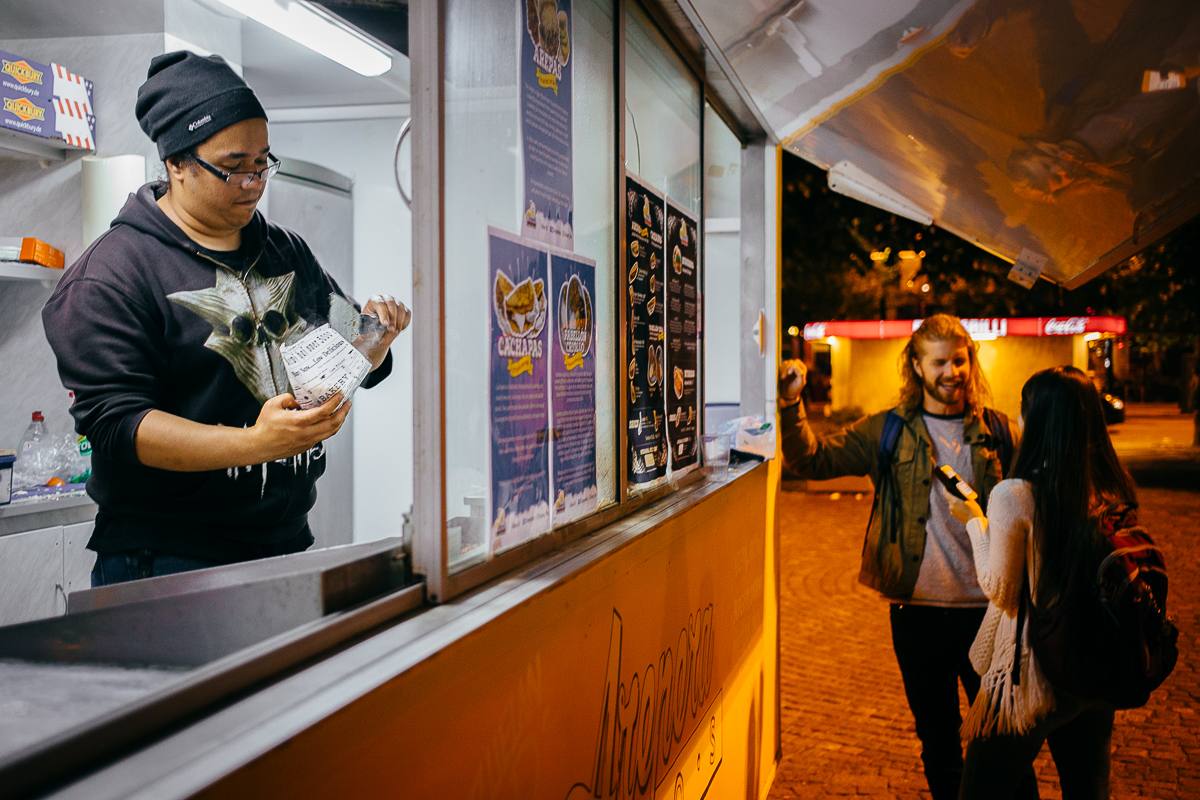 Outside the center, you can park anywhere, if you don't block the walking or biking path. In the center there are special spots, that city allows to park on. In winter is harder to find a spot because of the skating field.
It is hard to find a sport during festivals at the square, but selling at festivals is always profitable. There are loads people and they would like to try new food more than they normally do. They look for something exotic.
My customers can also get food delivered to their location in Helsinki. I work with the company called Wolt.
Can you give any advice to someone who would like to open a food truck?
Make a lot of contacts, serve your customers well, make good food. The food alone would bring the people back if it is good.
Working on your own food truck is like any other business, requires planning, effort, and investment. And you have to work far beyond normal working hours. Patience, perseverance, and a lot of hard work will completely be the keys to success.
Most of the common fast food is already available for sale, so to succeed, you need to offer something original or make food that already exists in a better way than your competitors.
More about Venezuelan Food in Helsinki
And finally, can you tell about your food? What do you cook?
I serve two transitional Venezuelan dishes, called arepas and cachapas. With arepas being the most famous of the two. I serve Venezuelan style burgers and hotdogs, as well as some juices.
Arepas
The arepas are breads made from corn flour, which makes it completely gluten-free. It looks almost like a pita, but taste is different.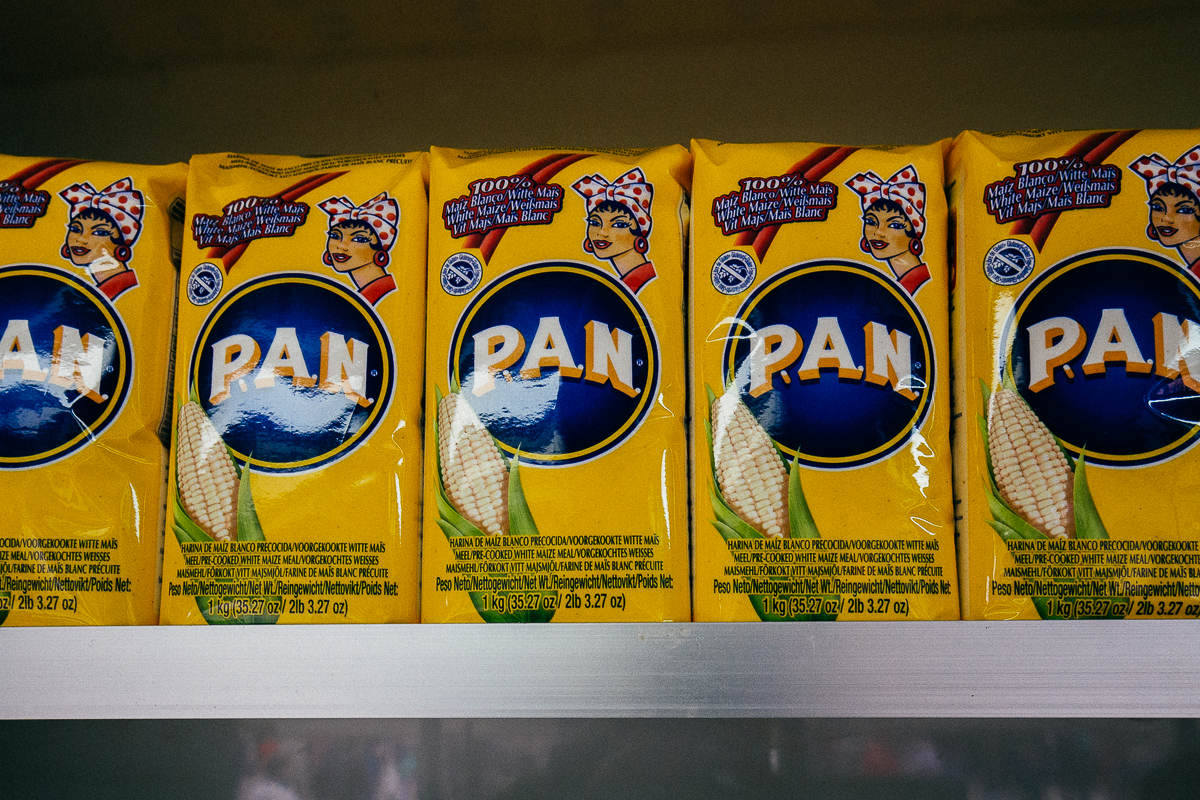 Inside, I put beef, chicken, beans or chorizo sausage.
The raw beef is cooked for a very long time, to make it as tender as possible. Then I mix it with vegetables and my special spices.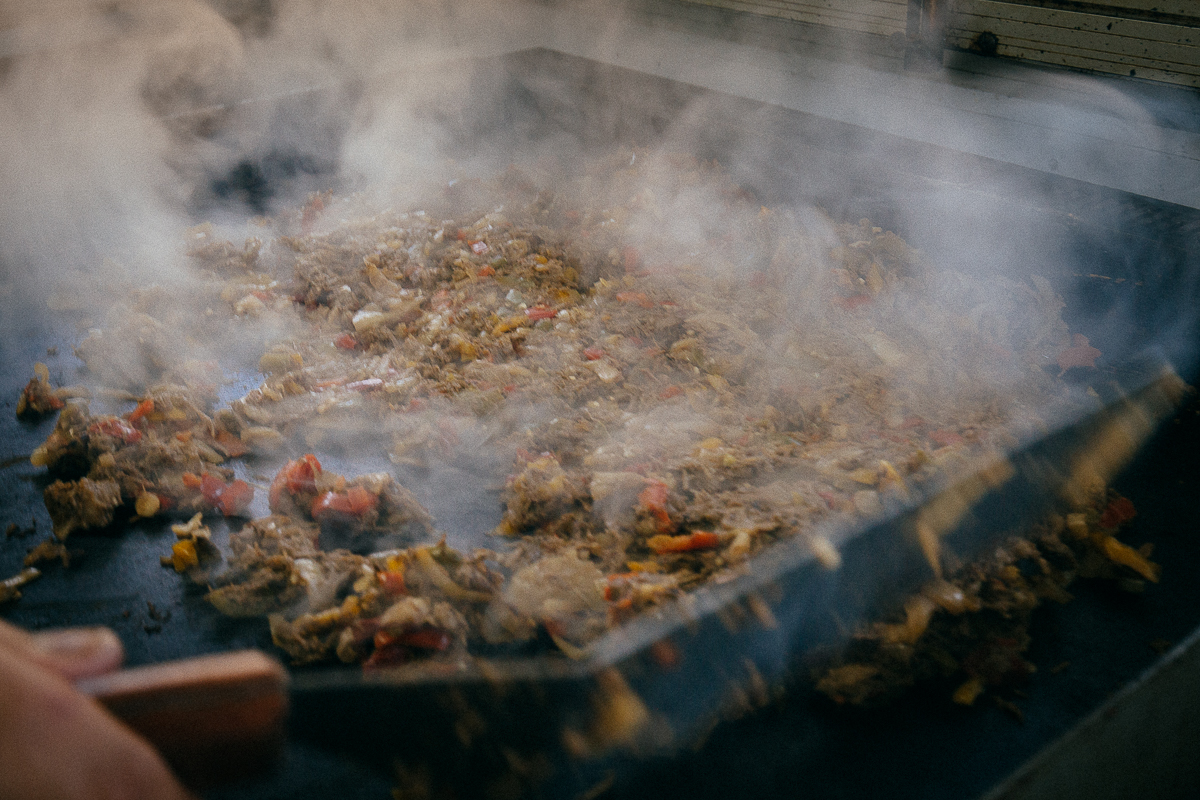 Chicken is more simple. is marinated in mayonnaise and my special spices.
I take raw beans, not canned ones. I cook them in the pressure cooker to make them soft and then similarly, mix with vegetables and spices.
Cachapas
Cachapas are pancakes, with an addition of sweet corn. They are sweeter than arepas and have yellow corn flavor. Inside it comes with the salty cheese (Feta) alone or with a selection of meat fillings (same as in the arepa).
Burgers and hot dogs
First of all, my burgers are big!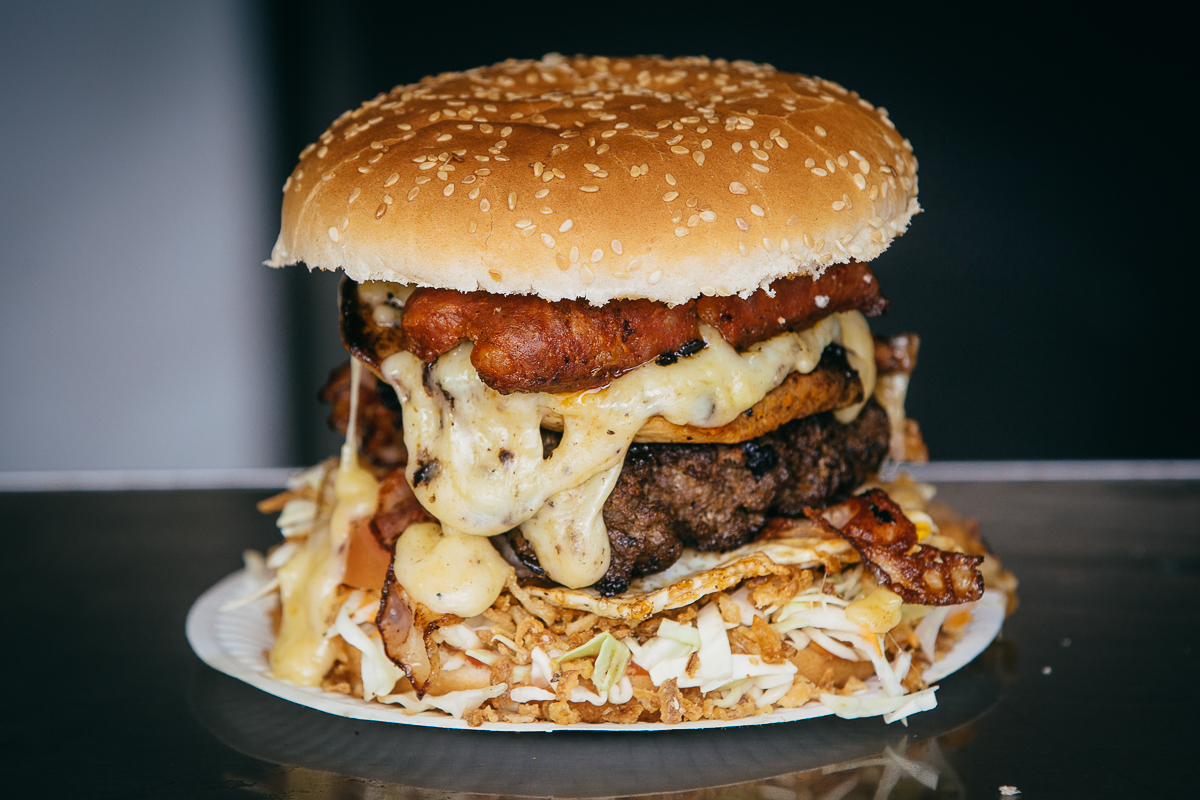 The burgers are done in Venezuelan style. In my country, we treat the meat in a different way. For example, the beef patties are created from minced meat, we mix it with a lot of different spices and garlic.
For chicken burgers, I use real chicken breast, that is marinated in spices and my special sauces.
In Venezuelan burgers, we put a lot of stuff in. Together with meat, there are fried onions, small potato fries, and chips, cabbage, eggs, and bacon. Everything topped with the melted cheese and if the client wants, I add my homemade spicy sauce.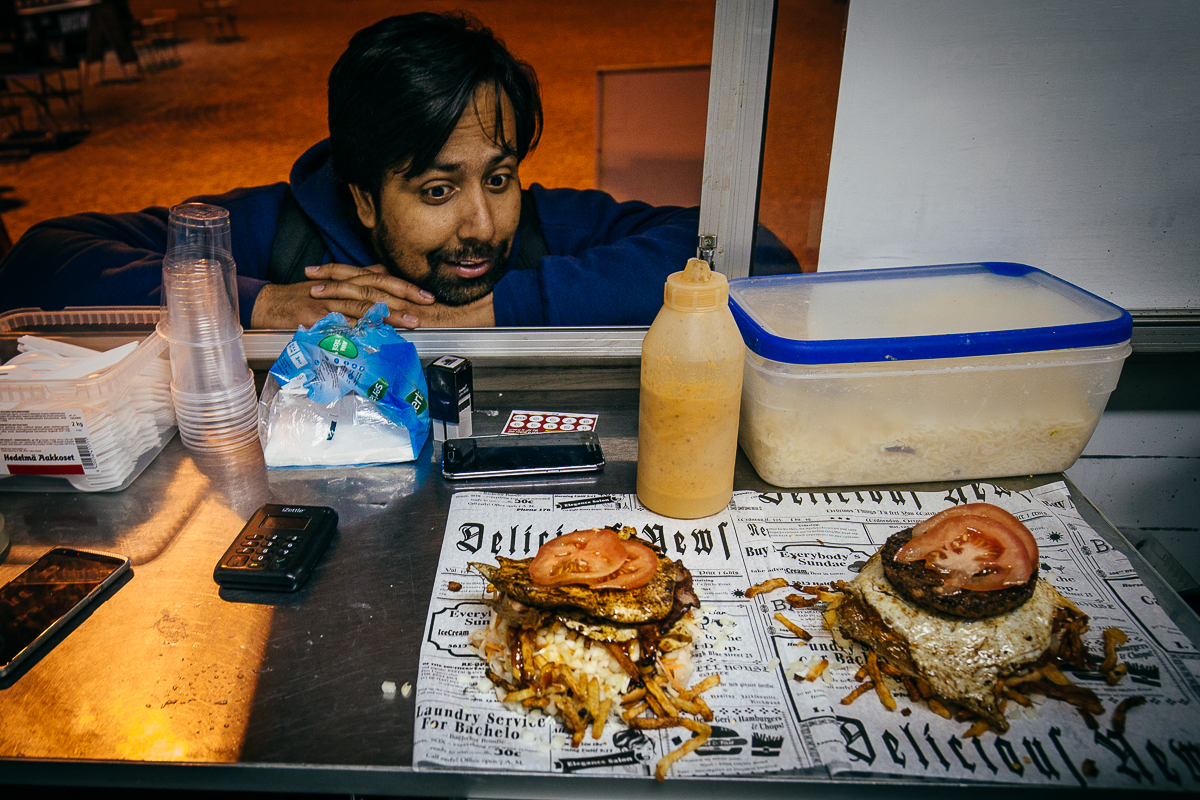 I add the same things too to hot dogs.
Juices
We have a couple of natural juices, one is made out of passion fruit and another one is famous Venezuelan drink called cocada, that is made from coconut and milk.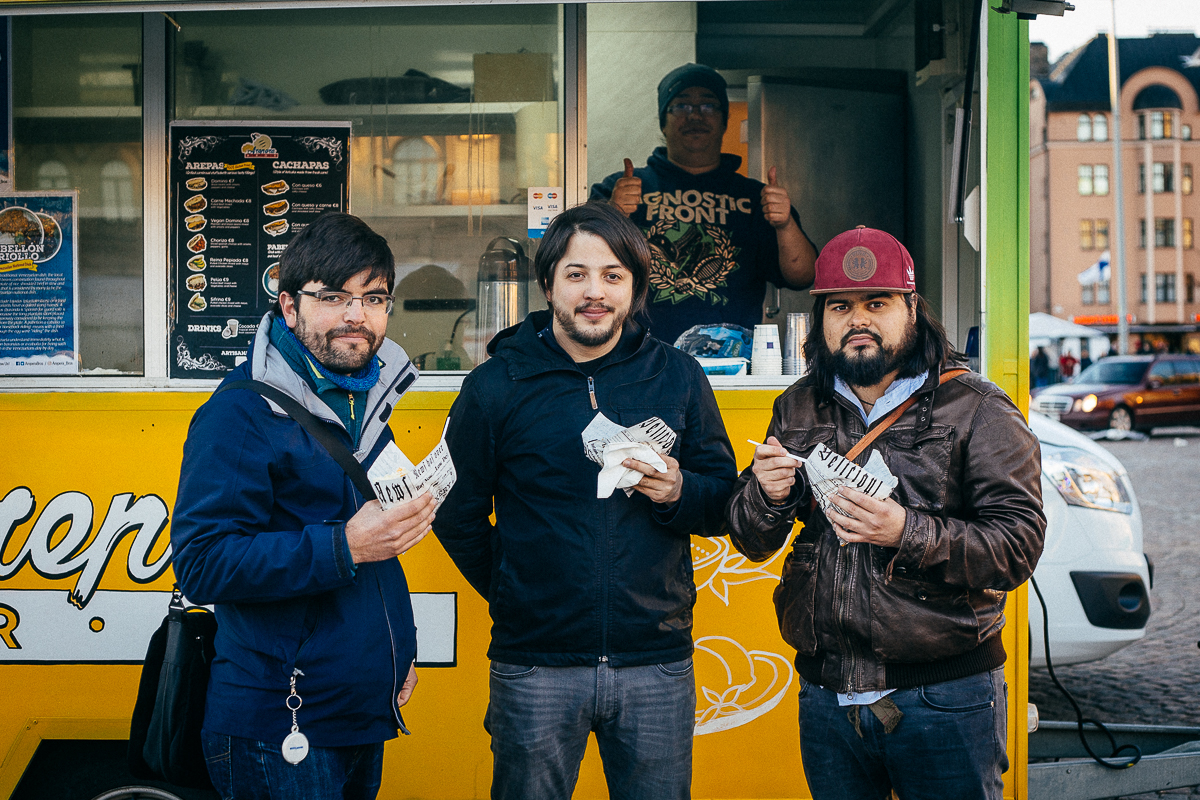 Arepera Bros Facebook page