At night, the former factory at Duisburg-Nord turns into a colorful, yet slightly creepy area.
I would argue that Duisburg-Nord is the best light installation in Europe, at least it is best to my personal taste. What is so special? Well, unlike other light shows I have seen, it is a permanent installation, done unusually on a territory of a former steel production plant. Old abandoned tunnels already look surreal, and colorful lights turn them into a ghostland.
Industrial Heritage at NRW
Duisburg-Nord is located in North Rhine Westphalia (NRW), the German state that was called "the land of coal and steel". Many production sites are now abandoned and are opened for tourists. These industrial heritage sites hold exhibitions and events, people go there for jogging or picnics. And obviously, these places attract a lot of photographers like me.
Duisburg-Nord at night
To be honest, I didn't expect much from Duisburg-Nord at the beginning. As an engineer, I have seen a lot of production sites. I started to think that this one is something special at the entrance. There were lots of photographers! I thought: "these are more tripods than I see during Northern Lights shootout".
When I entered, I saw that the enormous constructions are illuminated with red, green and blue. The area is huge and when you go away from the entrance it becomes completely quiet. Only sometimes you can hear echoes from other visitors. And when you think that about 60 years ago, thousands of people were working here – it starts to feel like a ghostland.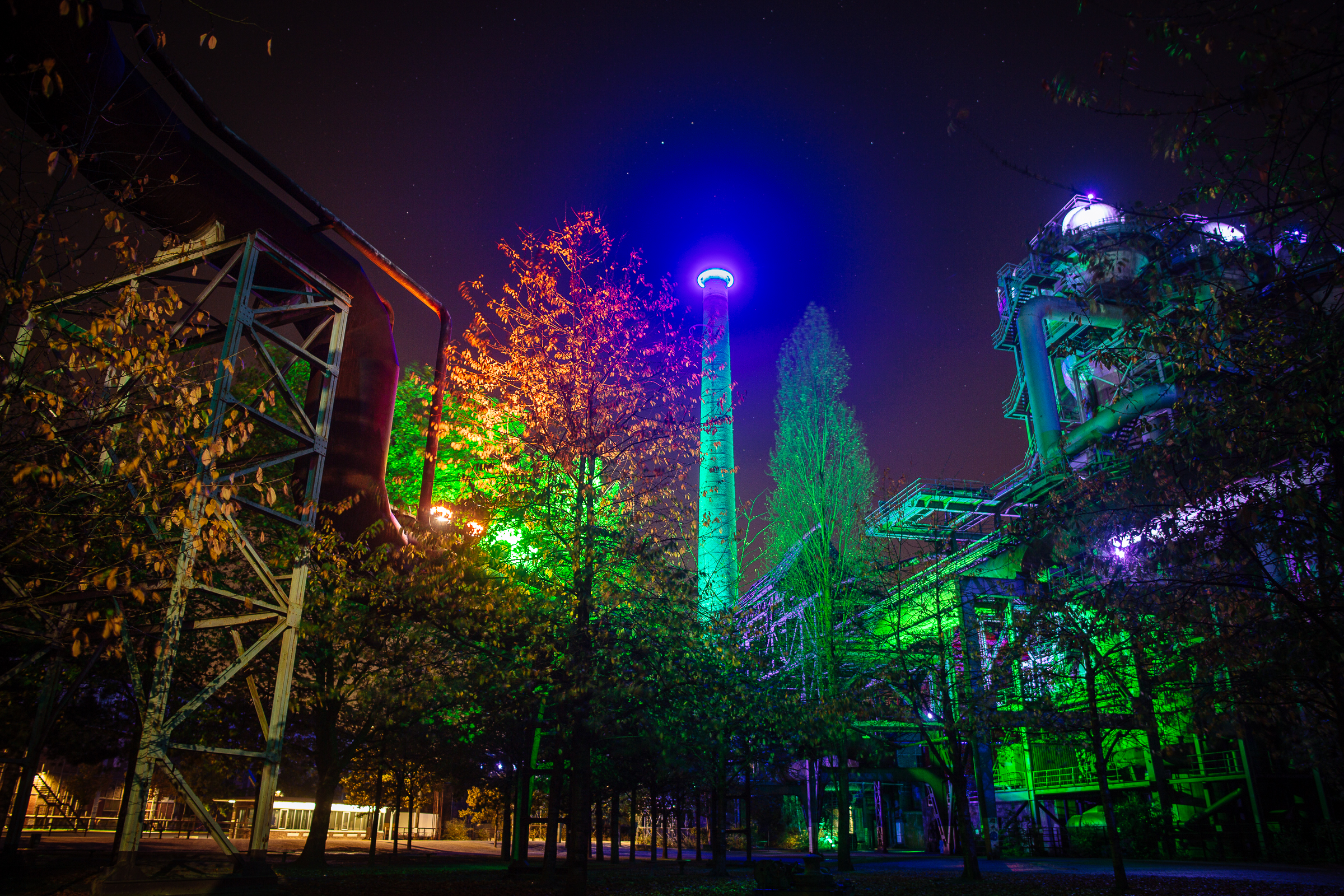 The thoughts about the amount of work and engineering challenge came again to my mind when I was climbing onto the top of an old blast furnace. About 60 years ago, every single bolt had to be tightened by hand and everything stays still up to these days. The furnace is about 80 meters high and now serves as an observation point. On the top, far on the horizon, you can see lights of a busy city and the new, modern life.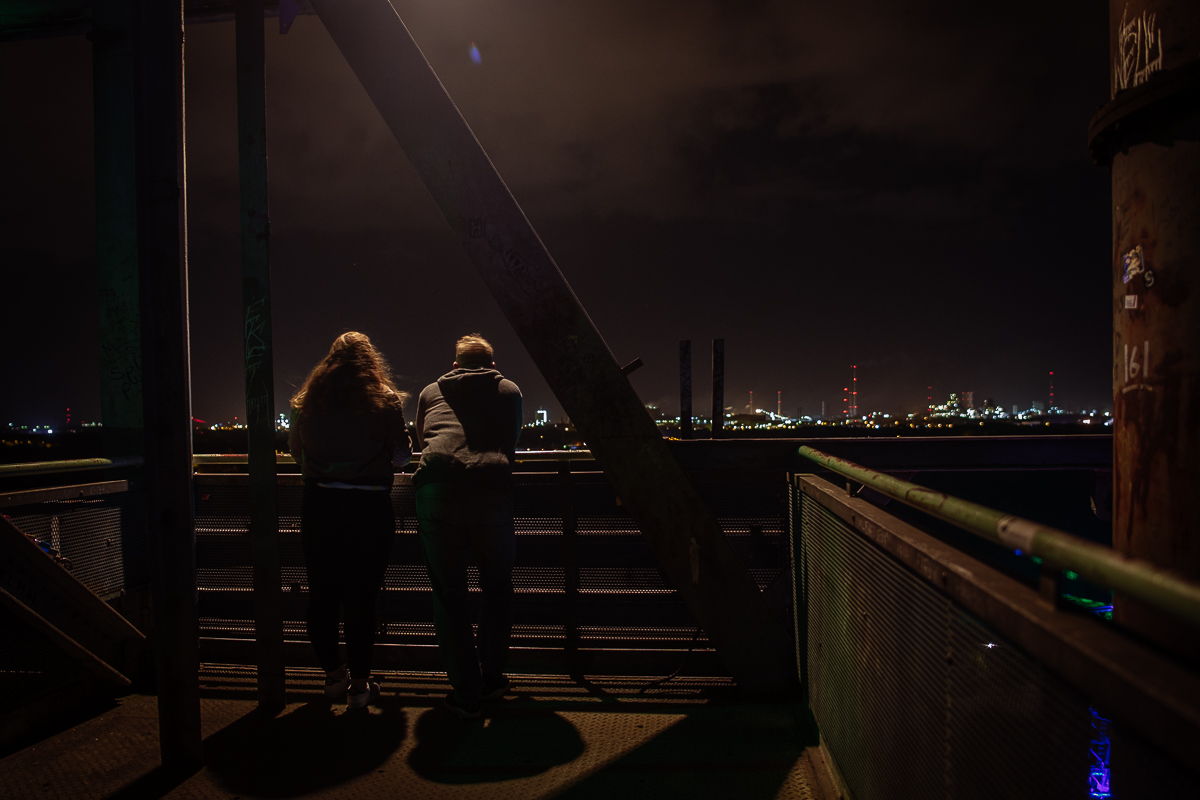 Duisburg-Nord facilities, in short
Besides the excellent light installation, there are some cafeterias. At night we saw that places are booked for the events.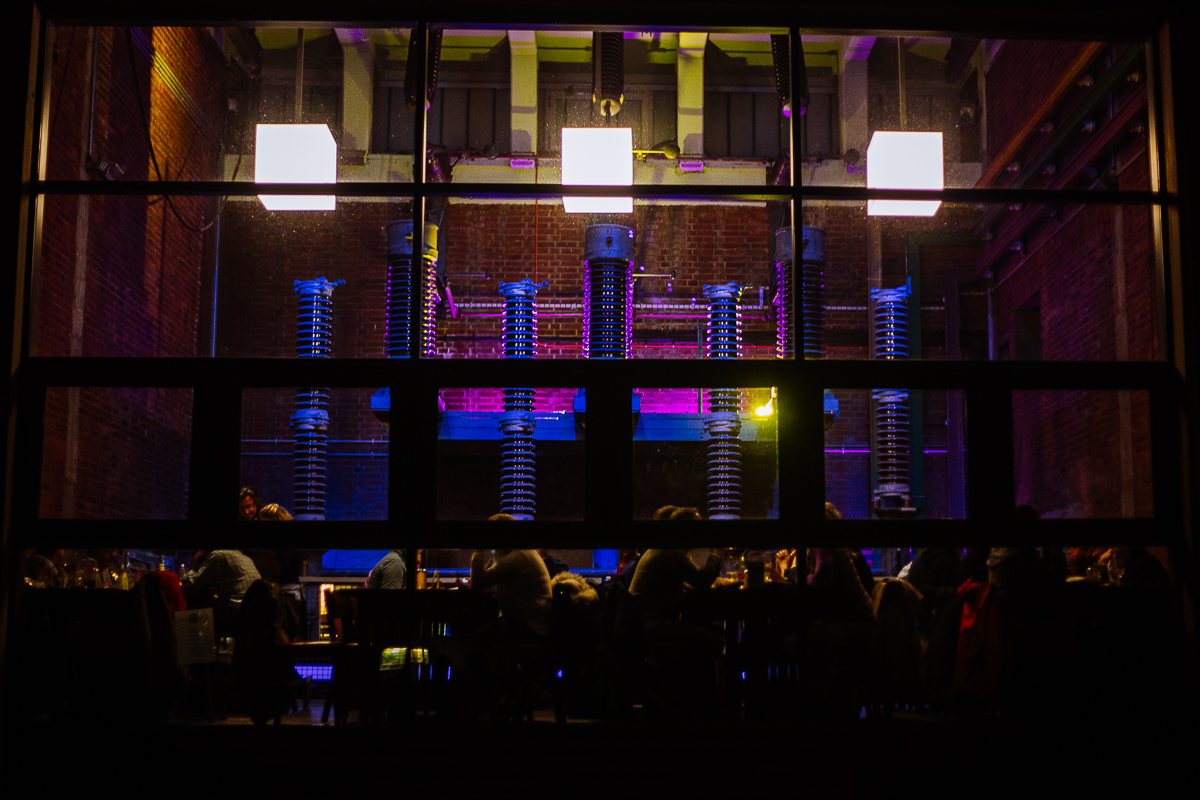 At daytime, there are some climbing walls and a large, man-made diving center. The area holds many events.
Entry to the park is free.
Basics of "Ghost Photography"
To photograph "ghosts" in the dark you would need a tripod and a fast lens. A camera with good low light performance would obviously do better photos.
Set your camera to shutter priority, keep ISO as auto
The shutter speed should be around 0.5-2 of a second
Normally in the darkness, camera would automatically set the aperture to the lowest point
Set the focus manually to infinity (normally, you have surrounding area in focus, but moving subject – not necessary)
Set exposure correction between -1 (for relatively bright area) and -2 (for darker area)
Wait for the subject to move and take a shot
Same shots can be made in manual mode (instead of shutter priority), but in some cameras (Canon DSLRs in particular) exposure correction is not available in this mode.
If your camera's image stabilization holds well for 0.5-1 of a second, you may use it instead of a tripod.
One of my favorite photographers is Alexey Titarenko. He made the whole career photographing "ghosts". You may take an inspiration from his work.