This post came from my older blog and will be adjusted to meet newer standards
   
Nuuksio, escape from the city
Nuuksio is the biggest national park in the Helsinki metropolitan area and the most popular national park in Finland. This is a place with clean lakes, rocky hills and beautiful woodlands.
On most of the territory people are limited to walking trails, which keeps everything untouched. Even if a tree falls, it is not removed and only cut in the place it crosses the walking trail. This makes Nuuksio a great place for hiking and camping.
Getting around Nuuksio
In Nuuksio, there are three marked trails. I saw people wearing jeans and sneakers, but I would recommend bringing a change of clothing. The trails are 2, 4 and 8 kilometers long. To walk other trails in the park, you would need a map and a compass, as well as basic navigational skills. The park is very well managed, it has camping areas and places where you can barbeque. Next to the areas for barbequing you can always find firewood. There are also some open shelters where you can hide during the rain or stay for a night.
Holma-Saarijärvi
My favorite place for camping and barbecue is a small island on the lake – Holma-Saarijärvi.
Directions to Nuuksio
To get to Nuuksio from the Central Railway Station you have to purchase a ticket for 2 zones (Helsinki, Espoo). From Helsinki, go to the Espoo city center (Espoonkeskus) on trains L, E, S or U. From Espoo take bus 85 (85A) and get off at Haukkalampi station. If you want, you can make a stop in the Nature Center Haltia on your way to the park. There you can have lunch or coffee, take a look at the exhibition of Finnish nature or buy some souvenirs. Haltia also has a panoramic window facing one of the most beautiful views of the area.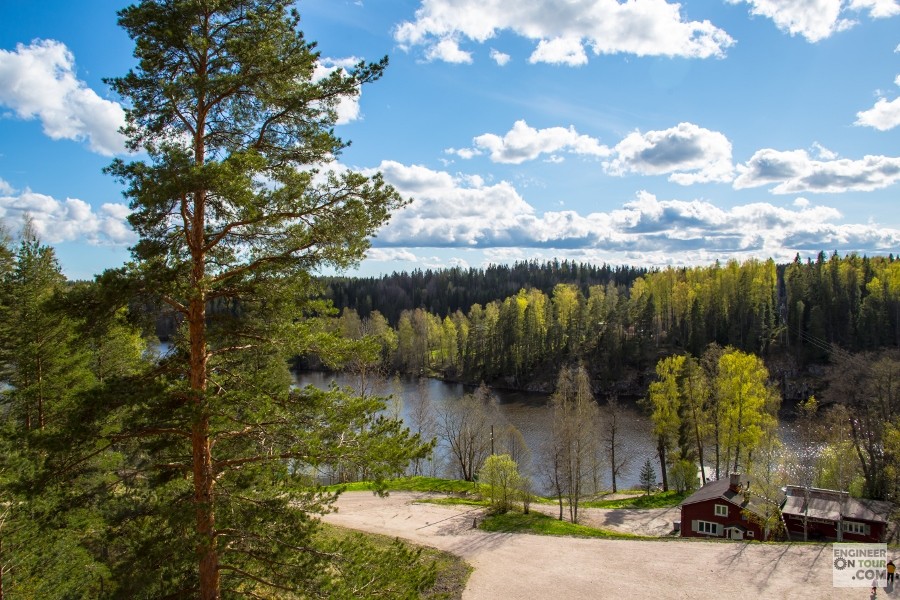 Tips
A few things that may be helpful:
When choosing the route, try choosing a route which goes around lakes
There are no shops next to the park, so buy everything in advance or in the center of Espoo (on weekends most of the shops open at 12 and close at 18)
Sharing a shelter with someone can be a good way to get to know some Finnish people.
There is an unofficial rule for shelters: they are for those who need them the most. There is no "first come, first serve" rule. Sharing a shelter with strangers is also quite common.
Nuuksio is not a place for turning on music and having loud parties, it will disturb other people there.
If it possible for you, consider going to Nuuksio on working days. On weekends, when the weather is good, there can be a lot of people next to the shelters and areas for barbeque, so the best camping places may be taken.
Links:
Information about the park:
http://www.outdoors.fi/destinations/nationalparks/nuuksio/Pages/
Finnish nature center Haltia:
http://outdoors.fi/customerservicepoints/visitorcentres/haltia/
Maps:
http://www.outdoors.fi/destinations/nationalparks/nuuksio/directionsandmaps/Pages/Default.aspx