That was hilarious! I have never been "deported". It was my first time.
Was it a deportation?
Ok, I write "deportation" in quotes, because I am not sure if it is called so. As I understand, deportation is when country authorities relocate a person to another country. In Ukraine, they told that I am refused to cross the border and that I "agree with them to leave voluntarily". In case I refuse to leave, it is going to be a deportation. But despite that, around the airport and to the plane, I was escorted. They handed over my passport the pilot and I received it only when arrived back to EU.
So, can you please leave a comment, legally speaking, was it a deportation or not?
Trip preparations
Now, everything from the beginng.
I am Russian, working and living in Finland for last 5 years. Together with a friend of mine, we decided to fly to Ukraine and Georgia for vacation. I urgently needed some rest from calm life in Finland.
Going to Ukraine? Yes, I know the news very well. But I also know that most of the news just show the loud events, which don't necessarily reflect the normal ordinary life. Some of my friends have been visiting Ukraine with Russian passports and are continuing doing so. In any case, I decided to take the risk and give Ukraine a try.
Before I went to Ukraine I had sent a question to the Ukrainian Embassy in Finland, asked if there are any particular things, that I should know before entering the country, considering that there are news in Russia about the implementation of short-term visas. They told that:
"The Consular Section of the Embassy of Ukraine in the Republic of Finland has not received any information regarding the introducing of short-term visas for Russian nationals."
Being quite sure, that there is not going to be any trouble I set off. We had a connected flight via Riga, and after a night in the airport, arrived in Kiev at early morning.
Interview
As we arrive at the airport, we go to the passport control. My friend with his Finnish passport gets through without any problems, but they didn't let me in with the Russian passport. They invited me for an interview. That is not the first time I am stuck on the border. Often, at the customs, they ask questions about my photo equipment. So, without any worries, I followed the officer.
At the interview, they were asking pretty standard questions (name, profession, place of living), but there were two things that worth mentioning.
First about Russia.
– Do you visit Russia often?
– Yes, one time in a month or once in 2 months
– Where have you been the last time?
– I traveled to St. Petersburg that had a flight to Chelyabinsk, I stayed in the city called Miass for a week
– Have you ever been to Crimea?
– No, never
– Have you ever been to Donbass?
– No
Then there were some complications with the purpose of my visit. I told, that it is tourism. They started to ask for particulars, which I didn't have. We didn't have the trip fully booked and didn't make much of the planning. Decided that we will figure them out as we arrive. That is what I normally do when traveling and that is what I told.
I was waiting for the answer for more than two hours. My friend was nervously messaging me. Eventually, I was asked to come. They told that they deny the entrance to Ukraine because I did not provide enough evidence that I came as a tourist and that they are escorting me back (to where I came from).
Negative decision and escort out of Ukraine
It was difficult not to laugh out loud when I was escorted to the departures hall. I shared it on Facebook, and people were quite entertained as well. I still cannot figure out what is so funny. My friends told it makes them laugh, because that they made such a circus out of a normal tourist.
The security told me not to go far from a certain area of the airport departure hall and that they would come to escort us to the plane when the time comes. Without the passport or any clue when they come, I was left on my own.
During 8 hours there, I got to know a guy from Syria. He told that he is a Dubai-based businessman and came to Ukraine to develop luxury tourism under invitation. It wasn't clear why they didn't let him in. They sent him back to Dubai. He told that Syrian passport complicates his business already, and if he gets a refusal stamp – it would be more difficult for him to travel.
The Syrian made a lot of noise, trying to figure out what was the stamp in his passport. When the time came, three guards and an officer came to escort him to his plane. He was refusing to go until they tell what is the stamp. He told, that he doesn't leave if there is the refusal. Officer answered that he would have his hands locked and would be escorted forcefully. He eventually left voluntarily.
And the finale. They announced me on the radio and told me to go to the gate number… I didn't get the number because they spoke Ukrainian. I went to the gates of my departure, which is a walk through the whole airport. Officer was not at my departures gate. I went back and he was not there either. Eventually, I found him together with a guard, going through the airport looking for me.
When I was boarding, it came out that they made me tickets to Riga, not to Helsinki as had been told before. On the plane bus, I was separated from the rest of the passengers and my passport was given to the pilot when the bus came. When I arrived in Riga, he returned it with a paper, showing the Ukrainian decision. It told: The purpose of the visit is not confirmed and states the place of residence as Russia
.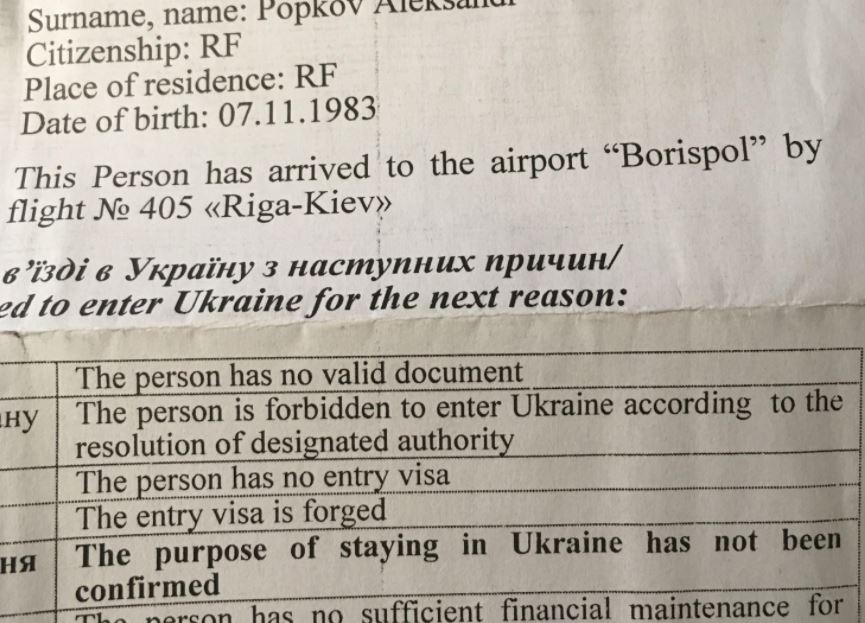 Was it a mistake?
At this moment, it stopped being funny and I got quite pissed off. In Ukraine, I gave the document, that confirms my residence in Finland! Was it a mistake? Or I didn't provide enough evidence that I am a Finnish resident?
Should I make a complaint about the decision?