This post came from my older blog and will be adjusted to meet newer standards
Time to see what the maritime capital and "the gateway to the fjords" looks like! After a night of the ship, I finally step onto busy streets of Bergen, which is the last major stop of my journey.
From the natural sites around Bergen I have chosen the famous Trolltunga, to get there I make 2 nights stop in Odda.
About Bergen
Founded in 1070, it is the second largest city in Norway and a former capital. Bergen is the most visited tourist destination, with many cruise ships stopping over a year. The city has good connections to lots of amazing natural sites and is by itself a very interesting place.
Past and present, few facts
Bergen has been the most important trading spot in Norway. There has always been a busy ship traffic.
Fishing industry is part of the city's history. These days, a lot of fish from the Norwegian sea is processed in there. And of course, you can try the delicious seafood.
Besides fishing, Bergen is related to aquaculture, subsea technology and oil industry.
The city is called the medial capital of Norway. This is reflected in the city's architecture; you can see a great variety of old wooden or stone districts.
Impressions
Most of people I was talking to when planning the trip recommended me Bergen as the top destination in Norway. And this not without the reason! It is the concentration of things Norway is known for: maritime and nature.
The first thing I have noticed is the amount of ships, you see a lot of them while approaching the city and in the city center.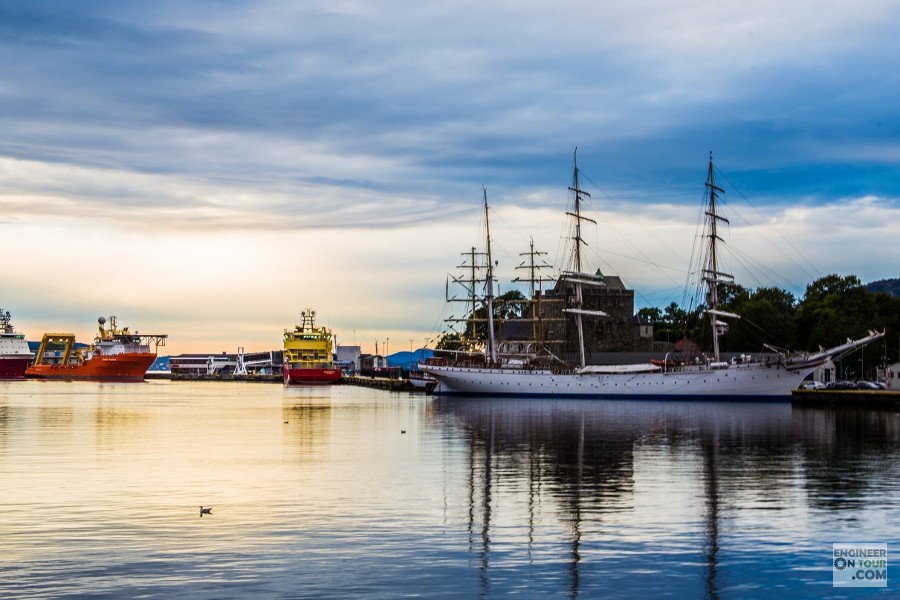 As soon as you get to the center, you see the Bryggen wooden buildings facing the shore side. That is the soul of the city. It is easy to imagine, how for hundreds of years trade and fishing boats were entering the bay. Beautiful shore side, central market square, different architecture styles and all kinds of ships. All this against the background of mountains. You can see it all at the same time.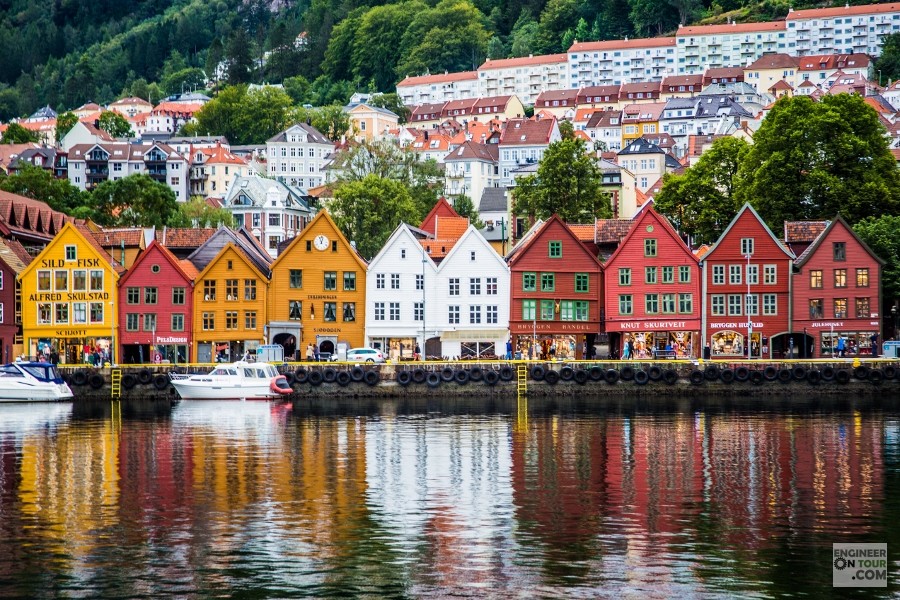 From there in the center, you can also take a ferry to different fjord locations.
And of course, the outdoor activities are great, especially hiking and kayaking. The mountains open up nice views onto the city and fjords look differently if you explore them from a tiny boat.
A bit of a problem can be the weather, I found out that it is one of the rainiest cities in Europe. So I think, if you happen to see a sunny day – spend it outdoors.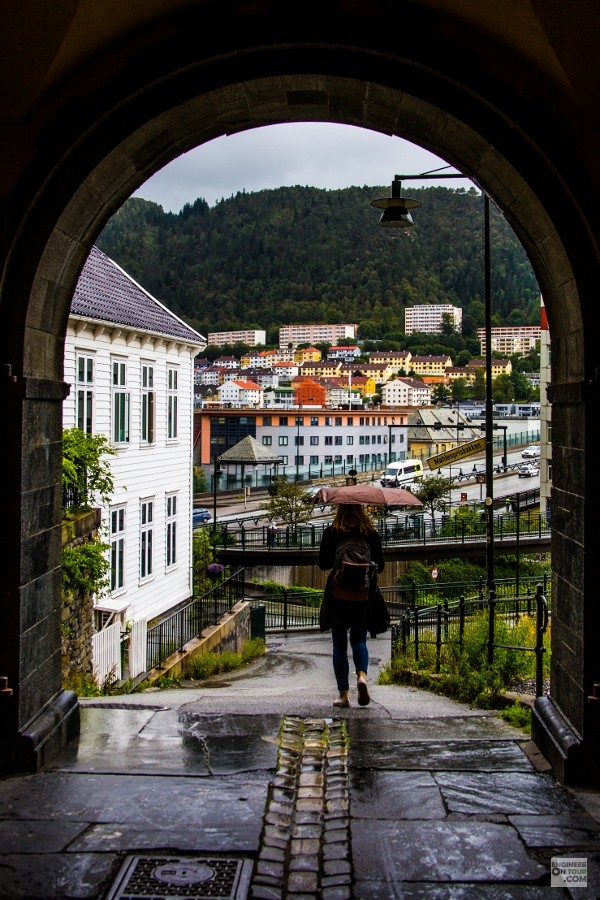 Odda and Trolltunga
It takes 3 hours to reach Odda from Bergen. Most of tourists I met there are heading to Trolltunga, but besides that, there are more natural and industrial heritage sites to see.
Odda
Odda opens up opportunities to explore Hardangerfjord, with its wonderful waterfalls. There are also two glaziers and museum of hydro power. After all previous hikes I wanted to take a break and give my legs a day of rest before making it to Trolltunga. With my past in hydraulic turbines manufacturing I decided to go for museum. Because of the amount of waterfalls, and possibilities of installing hydro power plants, Odda was called "the land of white gold".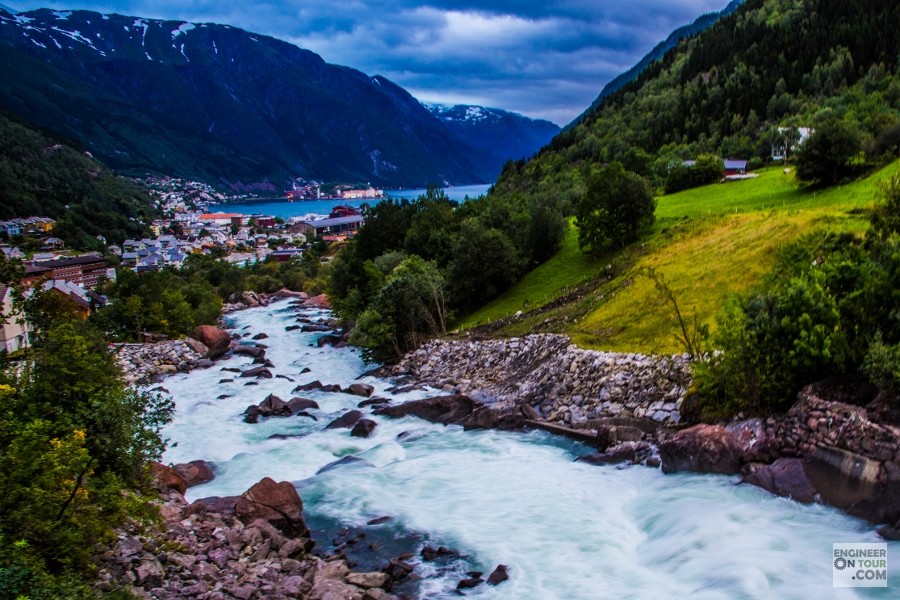 At that time, the construction of a turbine was an expression of art, engineering and architecture. I will quote one of the industrial pioneers of early 20th century: "When you enter the enormous turbine hall, it feels like you enter the ballroom. Visitors are left in silent awe over this power symbol of human mind. The word "Temple" immediately comes to mind."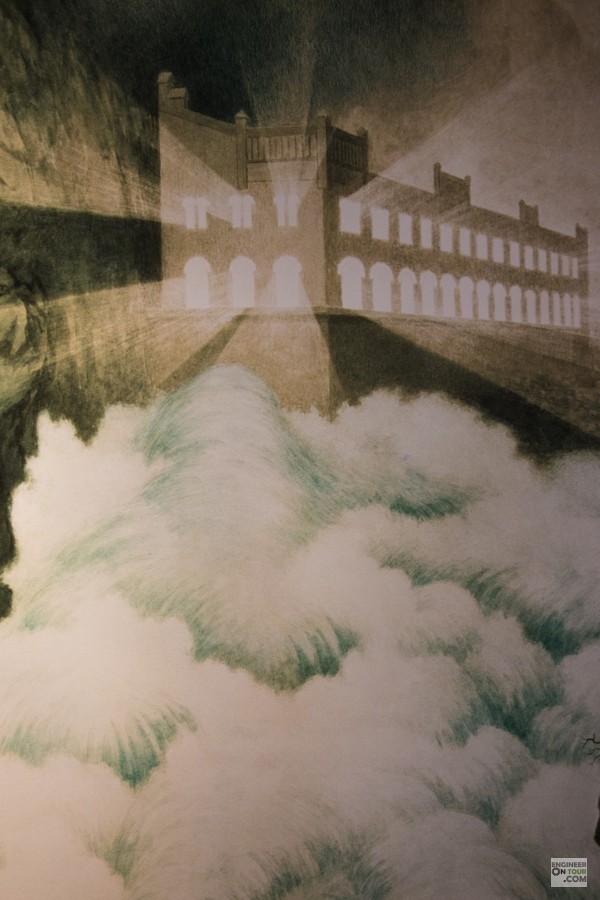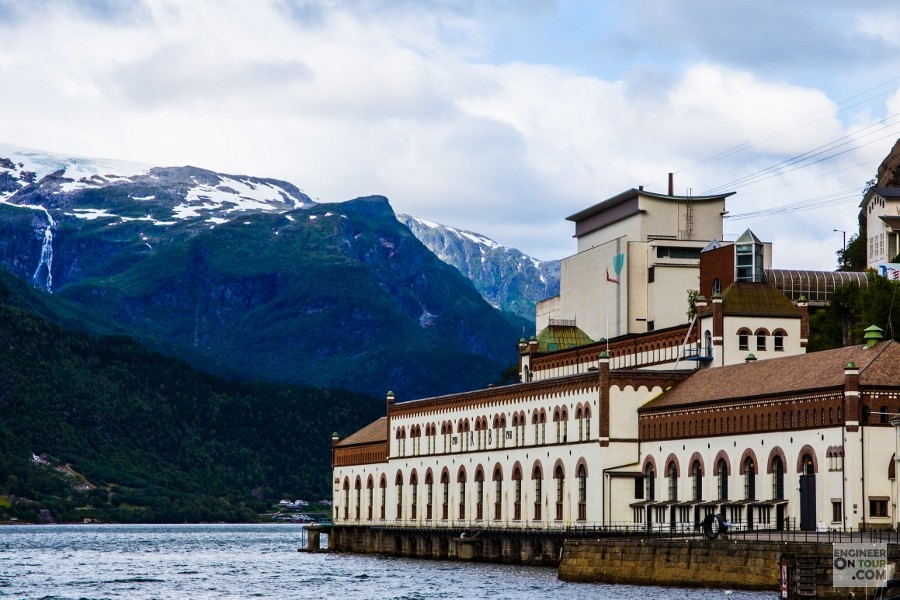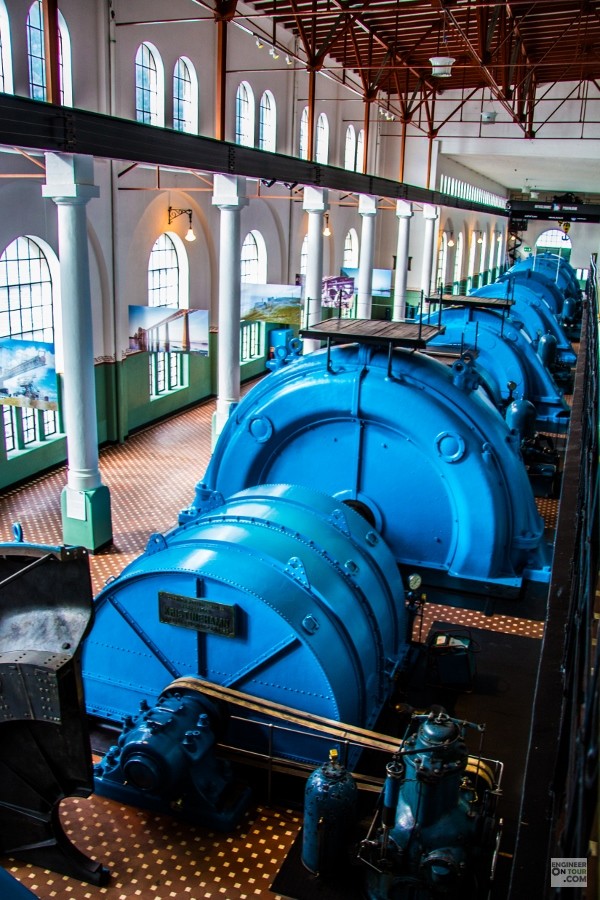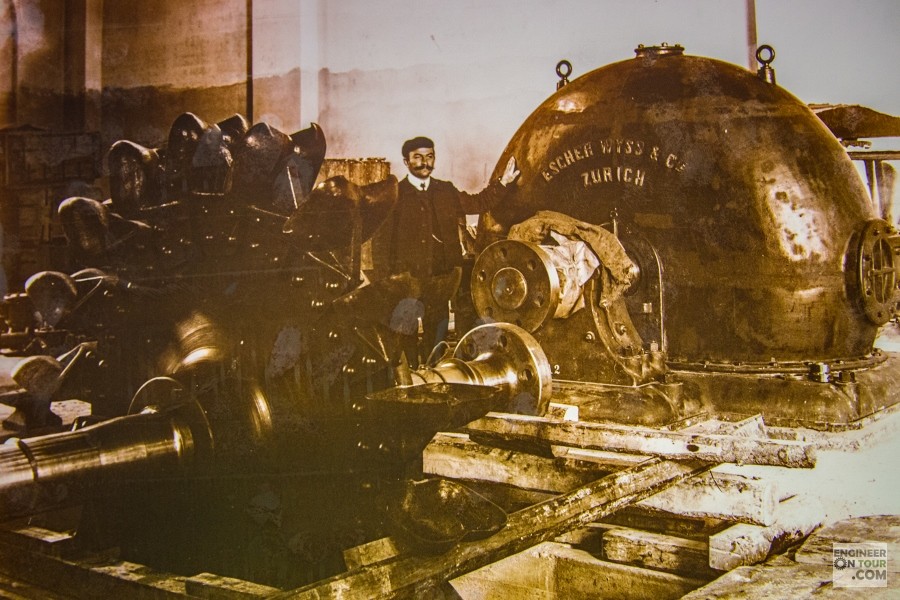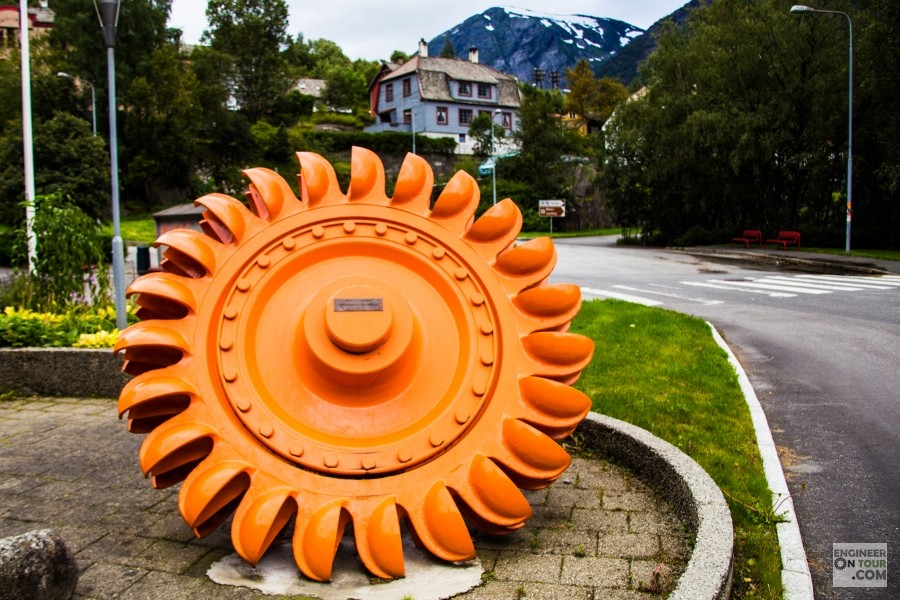 The attempt to use the waterfalls as a source of power resulted in a lot of protests. And, although many turbines were already working (many up to these days), the expansion stopped, leaving the natural sites untouched. In the museum there is also a beautiful collection of old b/w photos of Odda that were colored.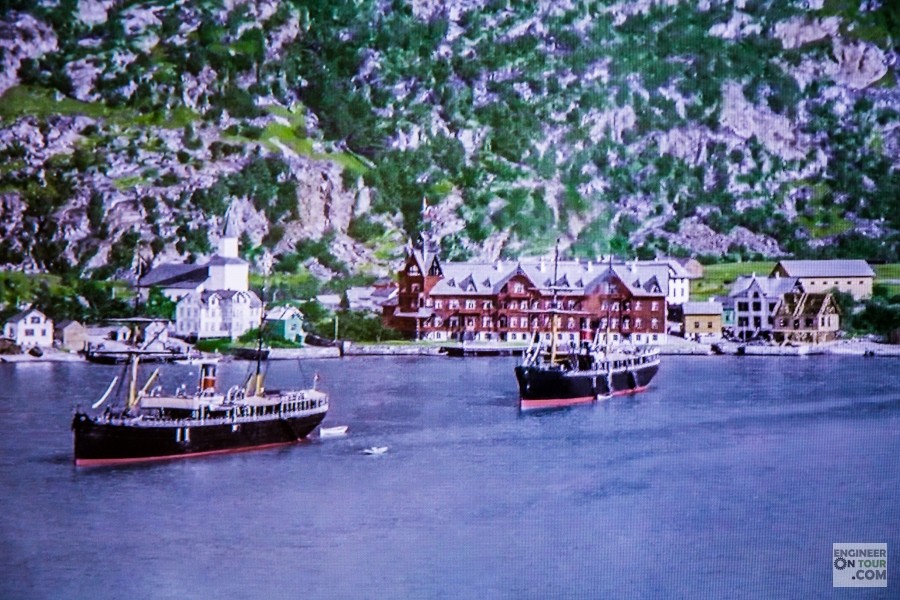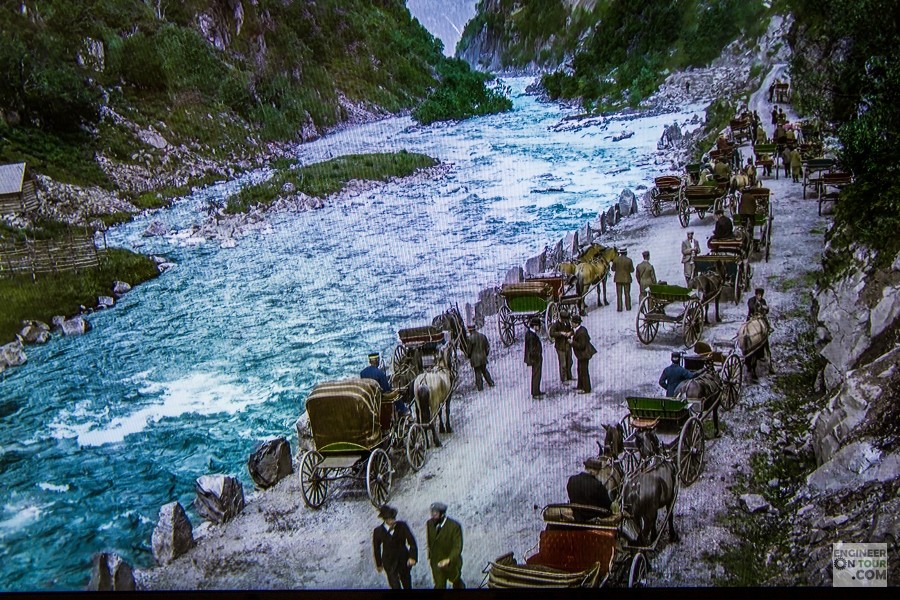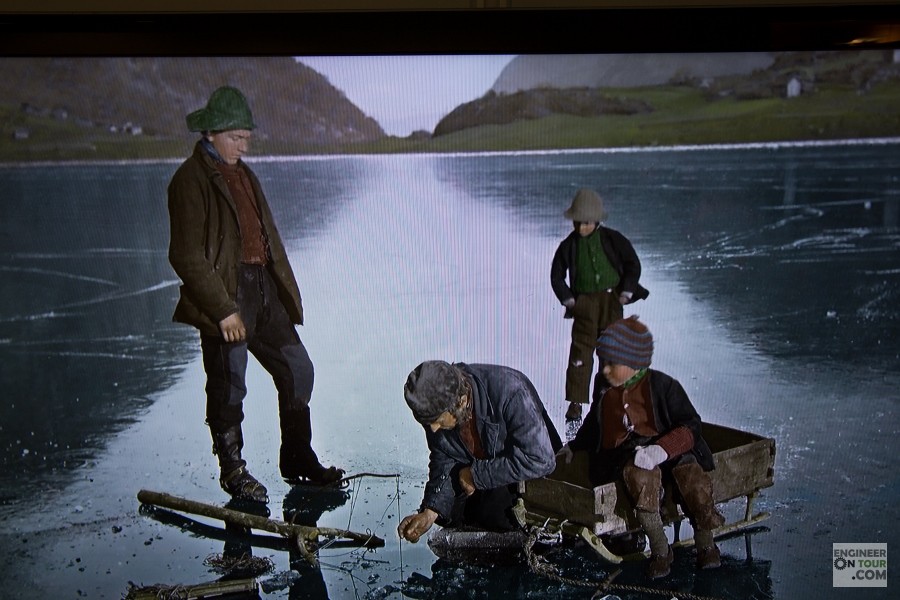 There is also an abandoned factory right in the center of Odda.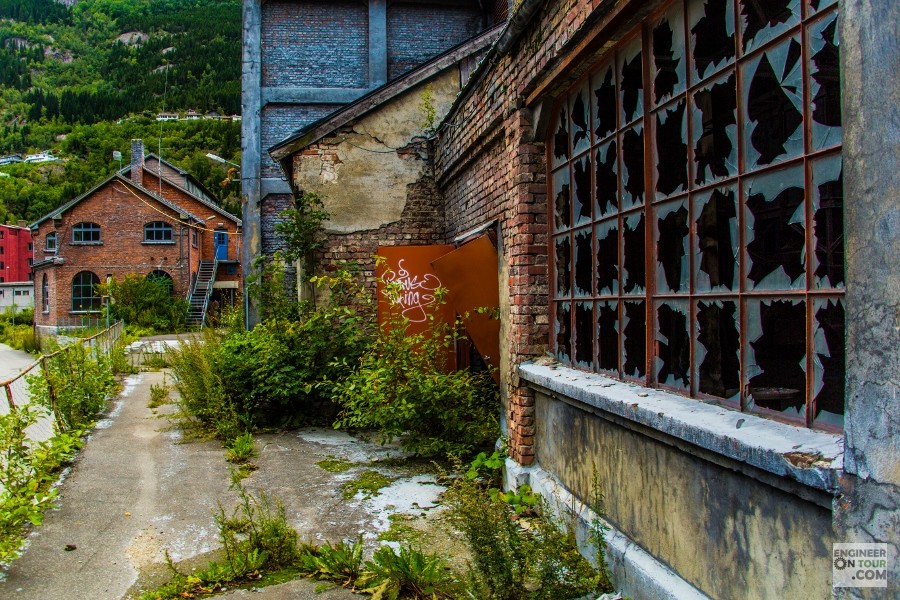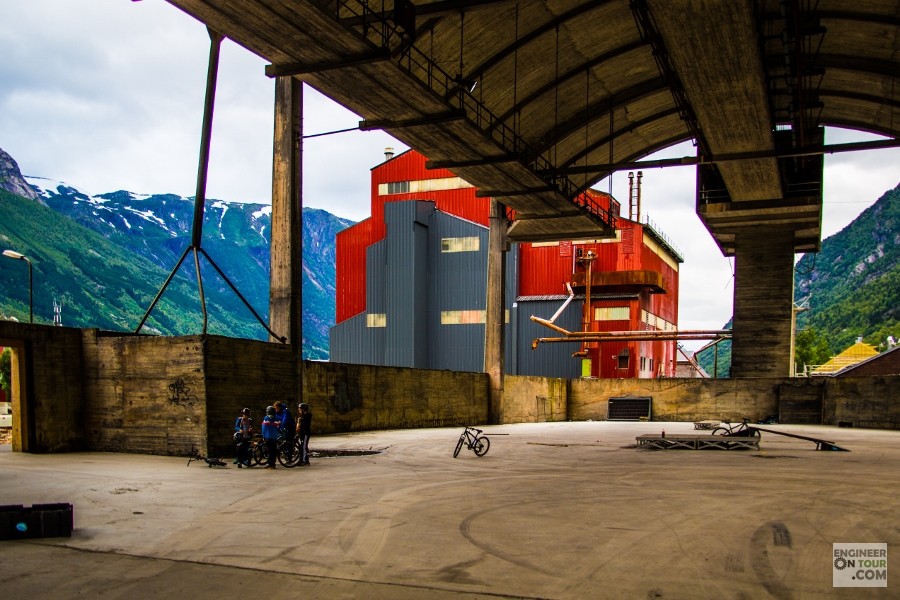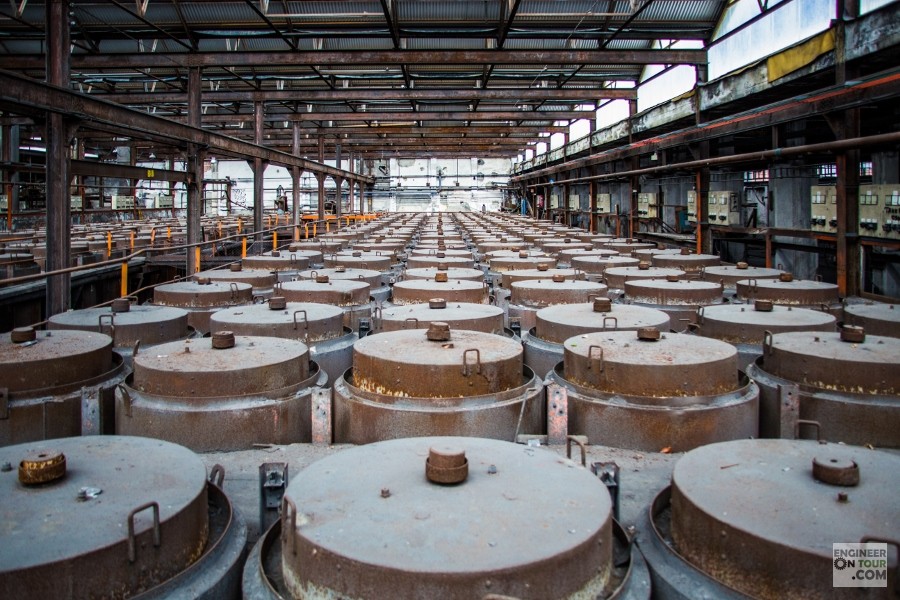 Trolltunga hike
Trolltunga (Troll's tongue) is one of the most recognizable symbols of Norway. It is a piece of rock that stands out almost horizontally on the height of around 700 meters. Thousands of tourists visit it during the summer months. I think, It would be even more, but to get there you have to make 11 km mountain hike (one way).
I was visiting the place in September, it is not the busiest season, but I found it very easy to get companions. In the hotel, everyone was talking about how they will get to Trolltunga, some tourists I met on the street were going there, and eventually, at the bus station (Trolltunga direction) people talk to each other about forming the groups. I was going with a few people from Japan.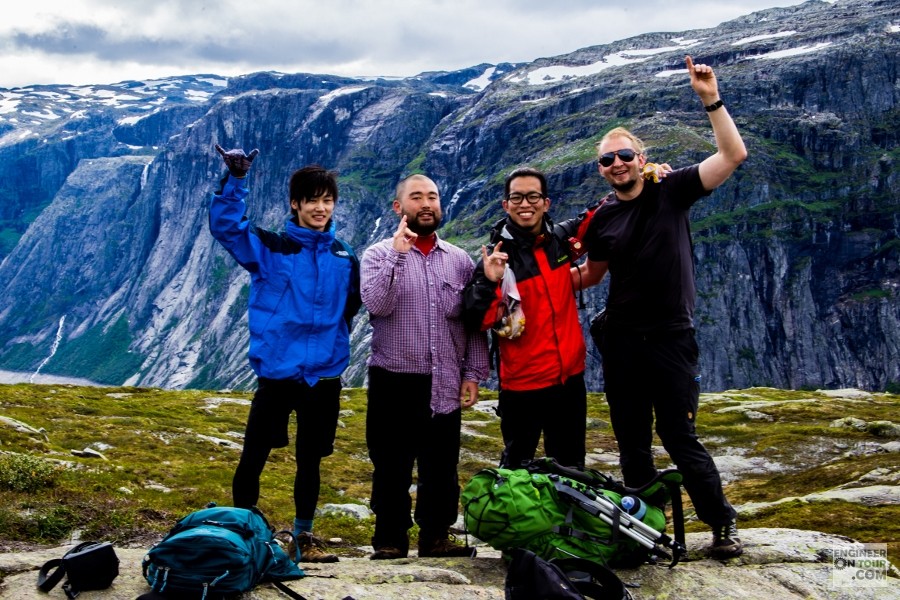 First 1 or 1.5 kilometers you go up the mountain, but then the area is not very steep. The way to Trolltunga is long and very beautiful, new view await you behind every corner.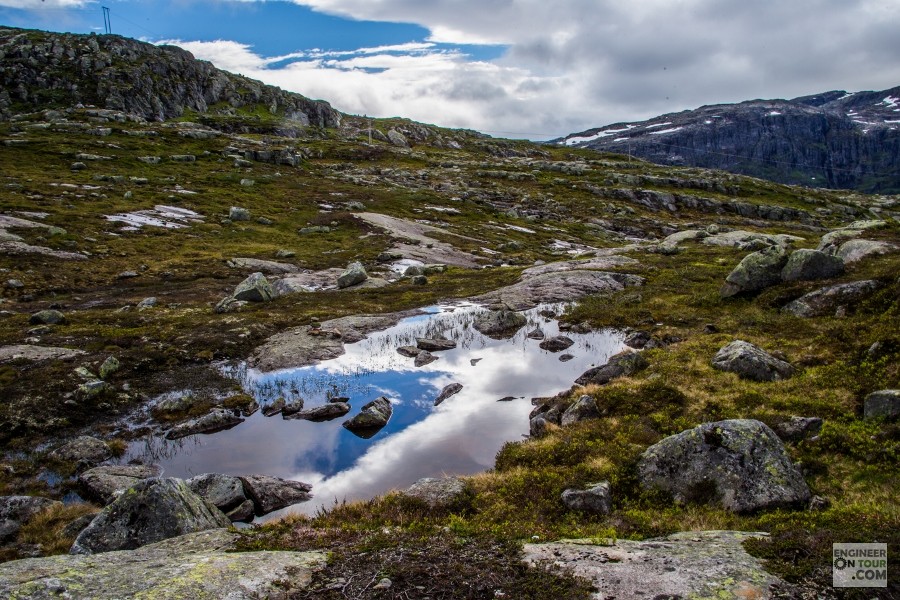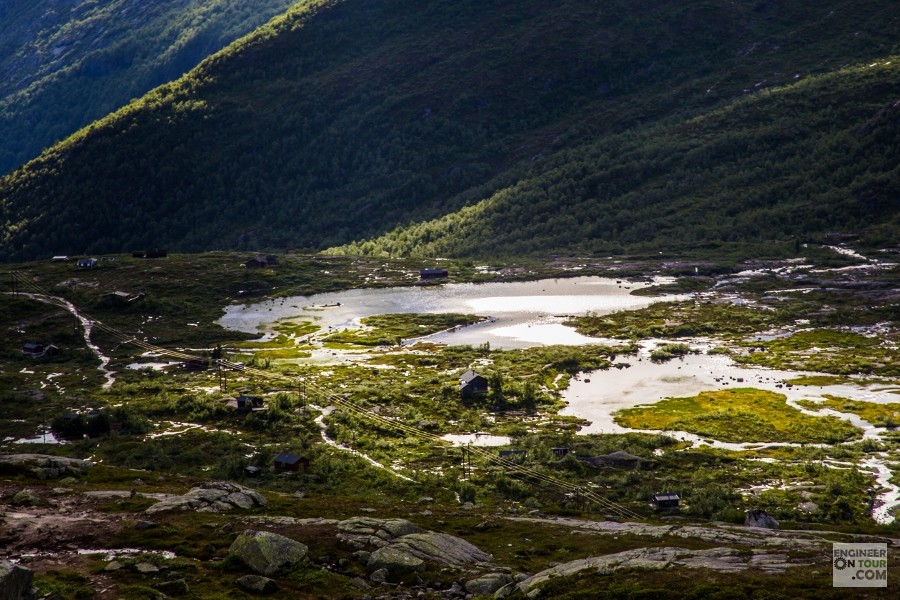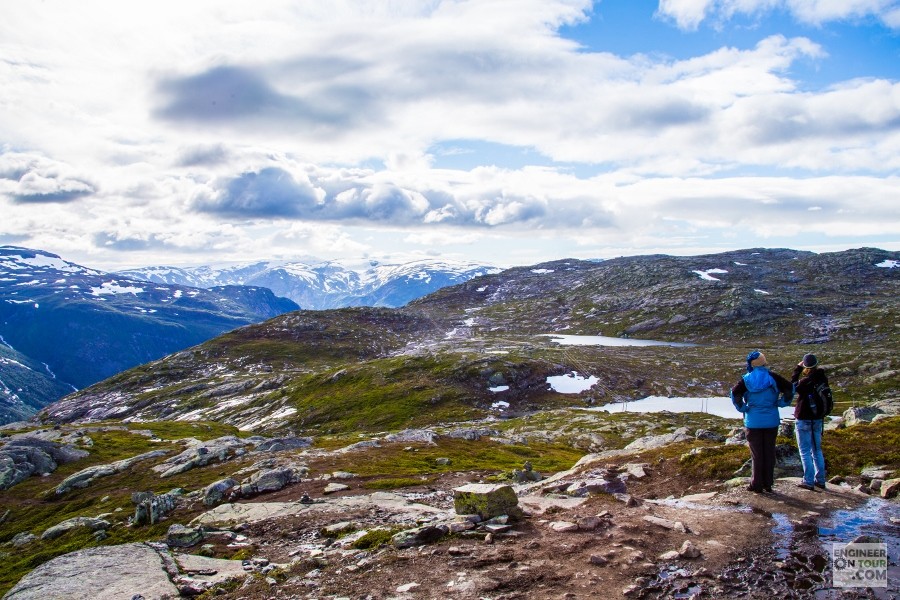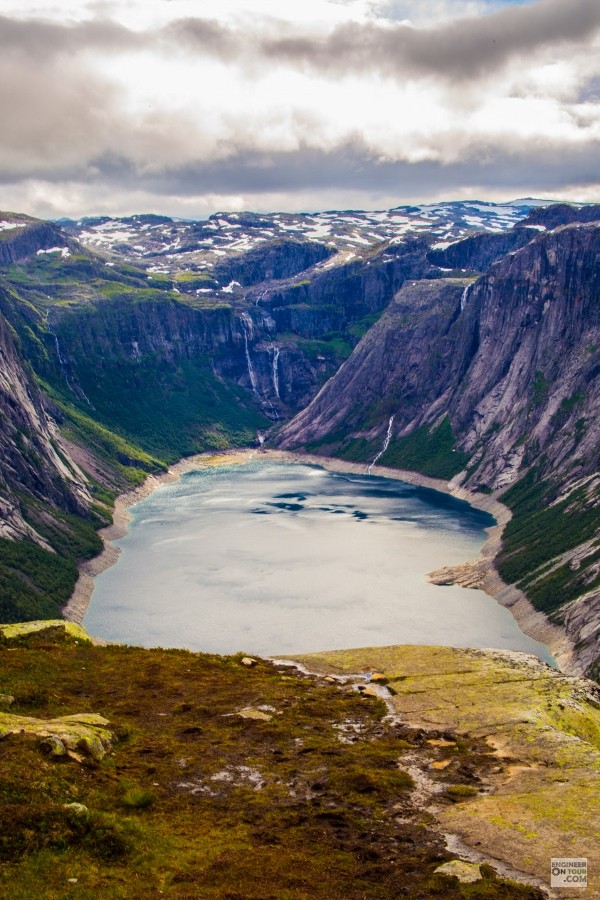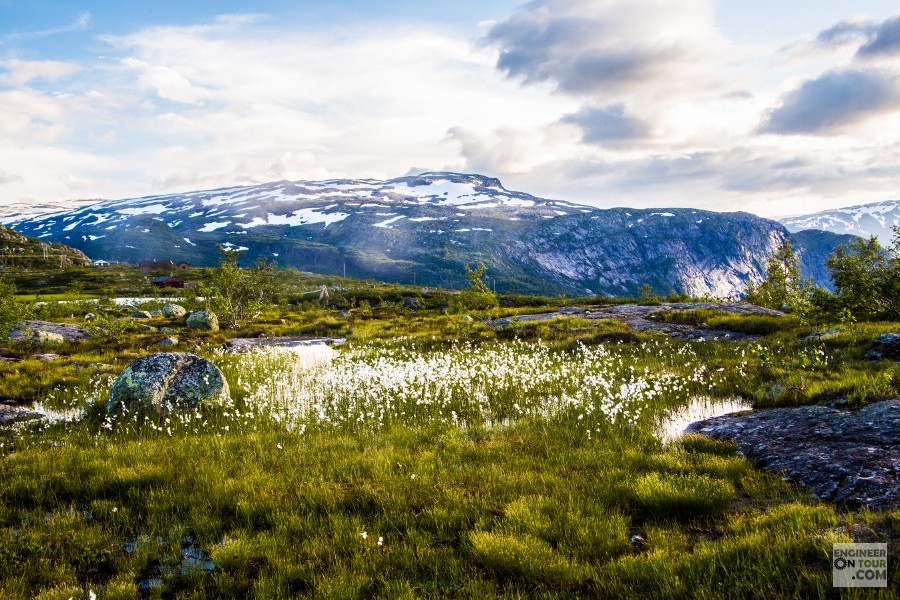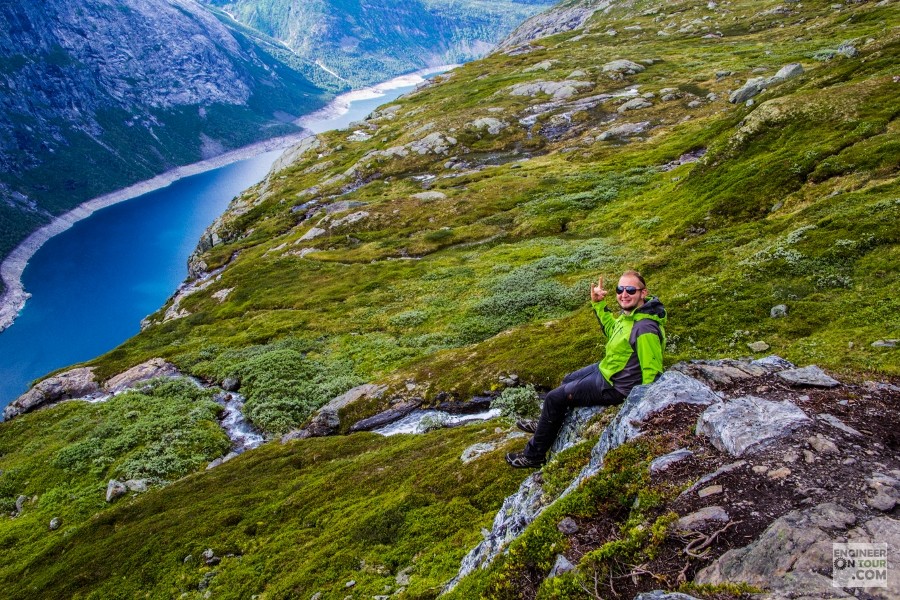 Next t to Trolltunga, there is a large amount of people. Visitors are having a picnic, or are staying in the line to take a photo. Trolltunga may look scary on photos, but when you are there, it actually feels quite wide and safe.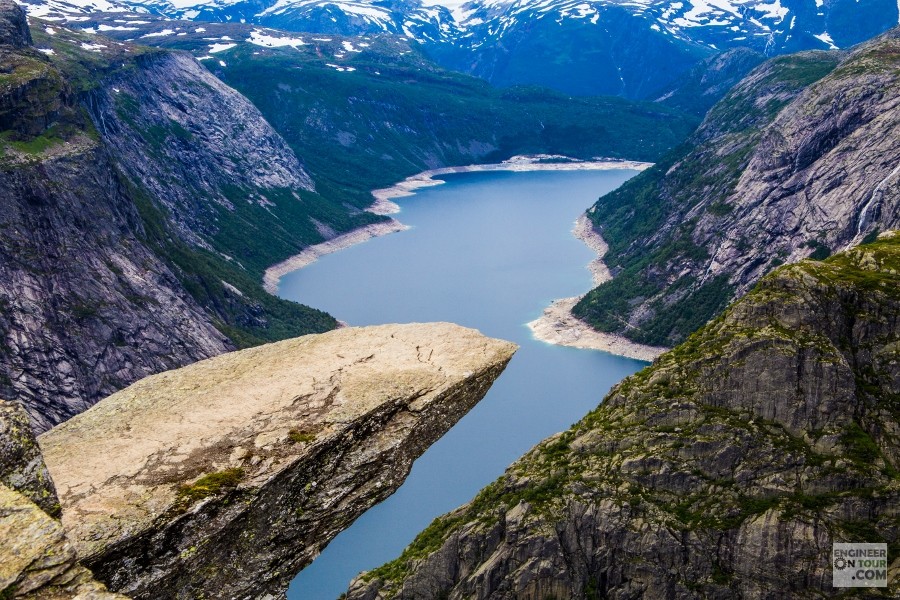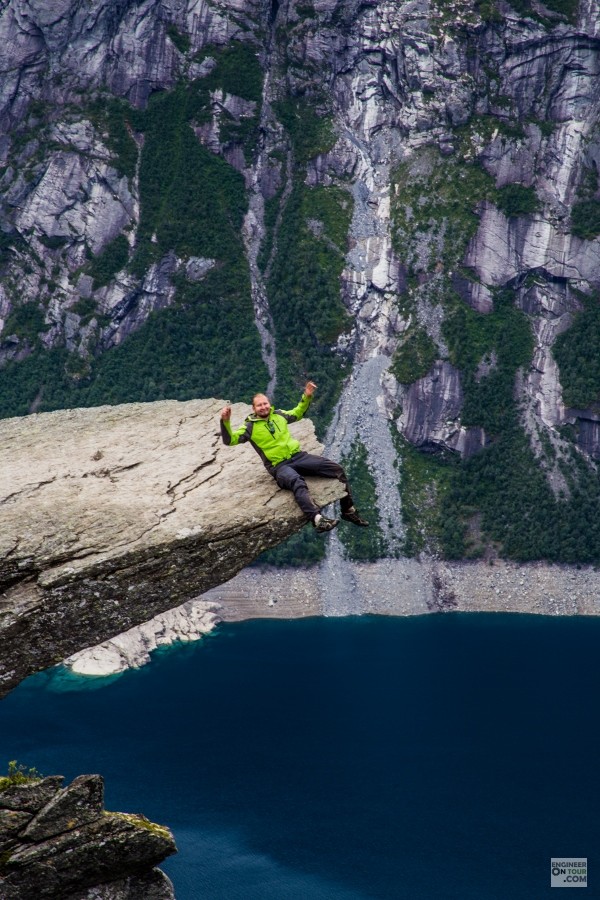 Myself, I did quite many hikes, but mostly at flat areas. At Trolltunga, I overestimated myself a bit, I took 25 kilos of load (the weight I normally take on hikes, since I carry my DSLR camera and laptop) and I was wearing light hiking boots. The road is quite challenging and along the way, you have to sometimes jump from stone to stone. The last kilometer of decent was the most difficult, it took more than 40 minutes to pass the last kilometer. For this reason, I was late for a bus to Odda, which meant I am late for the last bus to Bergen. I hitchhiked, and to my luck, a car stopped in 2 minutes. When they got to know I am late for the bus, they drove downhill with the scary speed. My thanks for this kind people; I was 5 minutes before my bus left.
5 Things to do in Bergen
Overall, I was not lucky with the weather in Bergen, so decided to spend most of my time in the city. Actually, the weather is something you should take into consideration when visiting the city.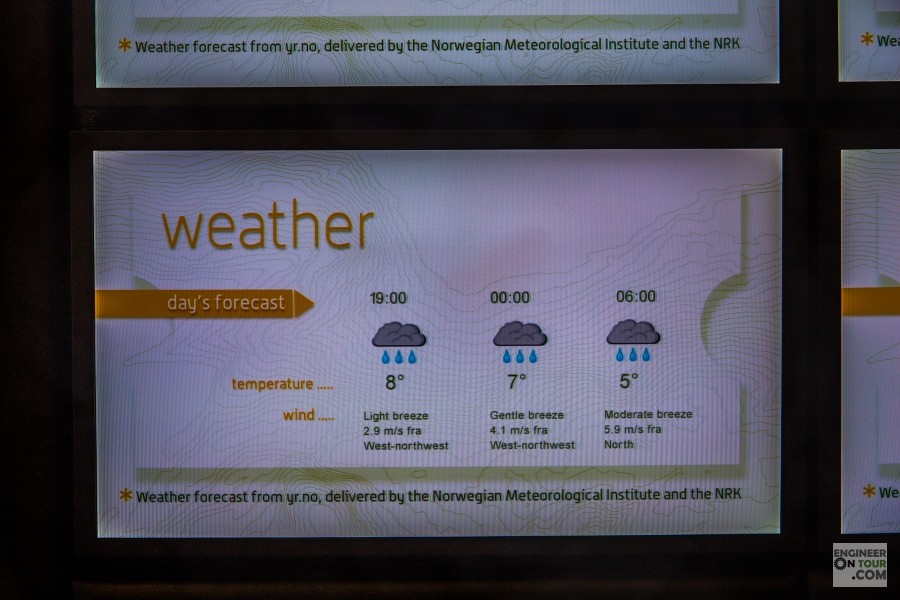 If you are blessed with a sunny day – spend it outside, you can always spend time indoors on a rainy day.
1. See the great variety of old architecture
In the city center you immediately see the historic district Bryggen.
When I was next to the houses I realized that you could go behind them, and to my surprise, I found the whole district of old medial houses.
Next to Fishery museum, there is a small recreated old harbor area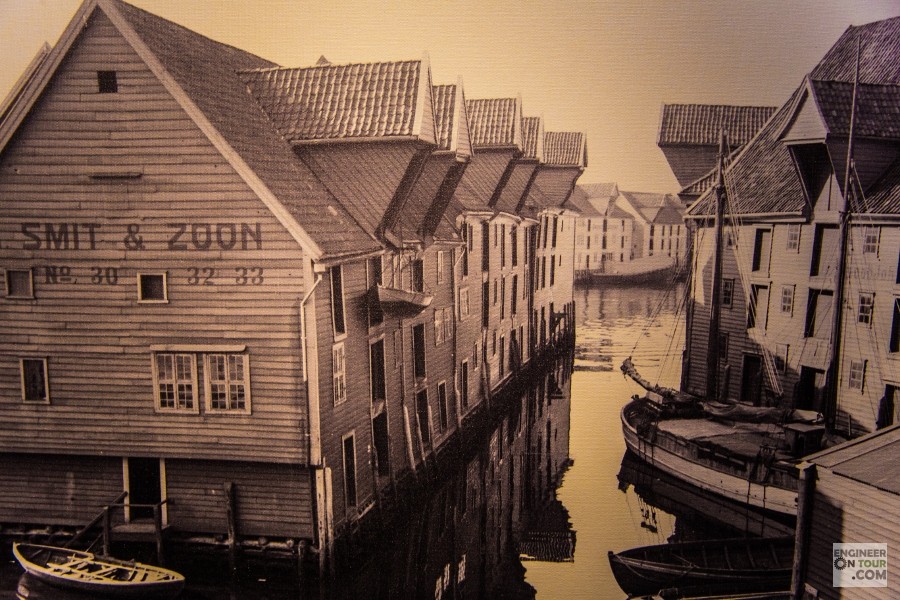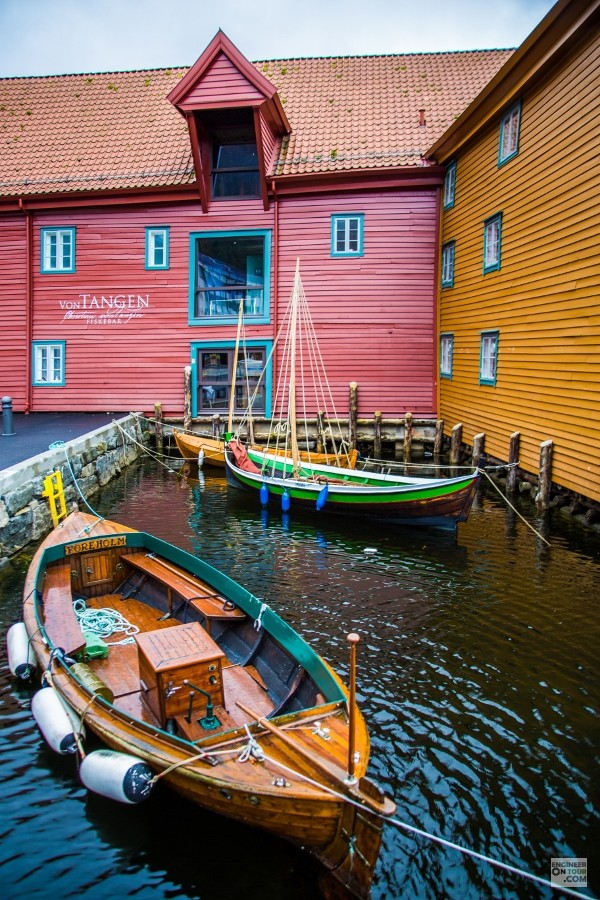 And much, much more different districts with different architectural styles.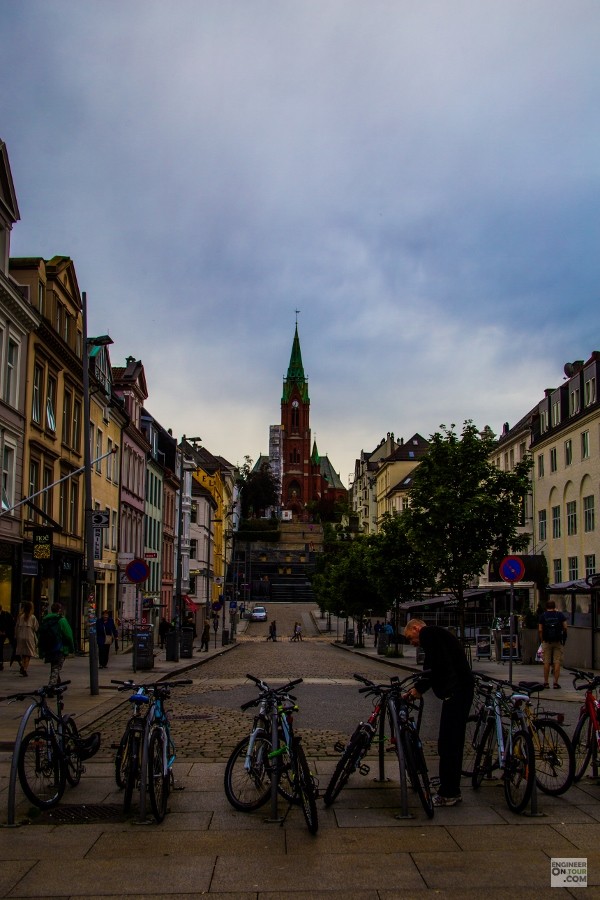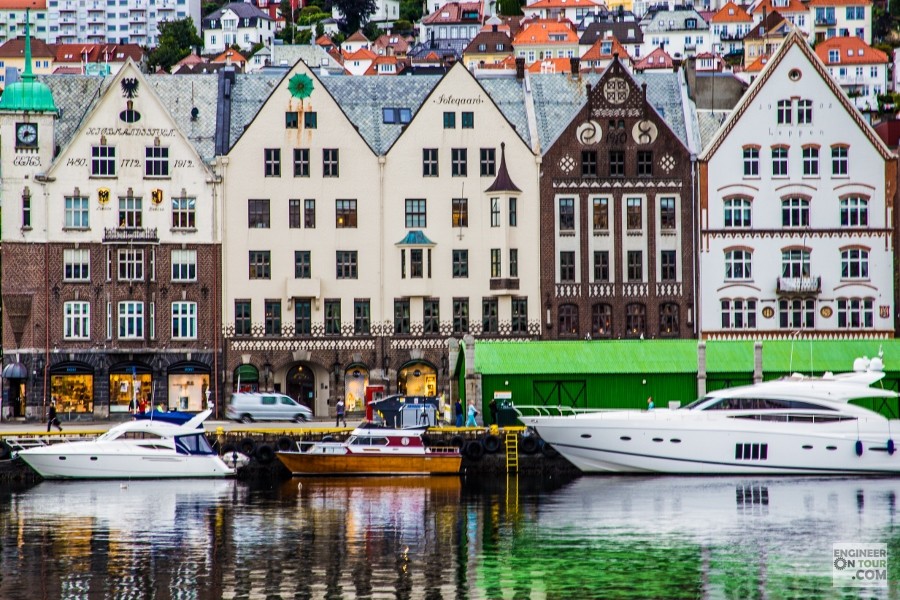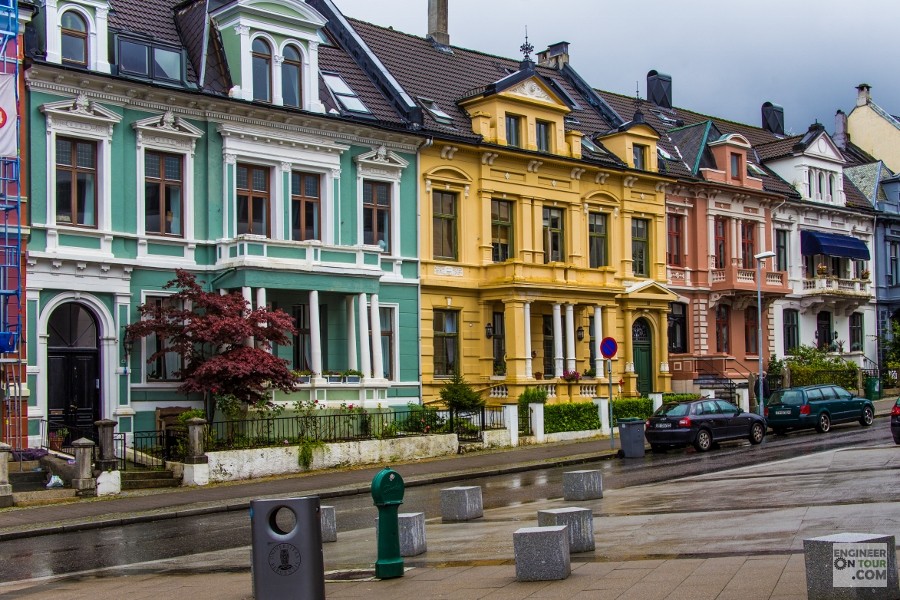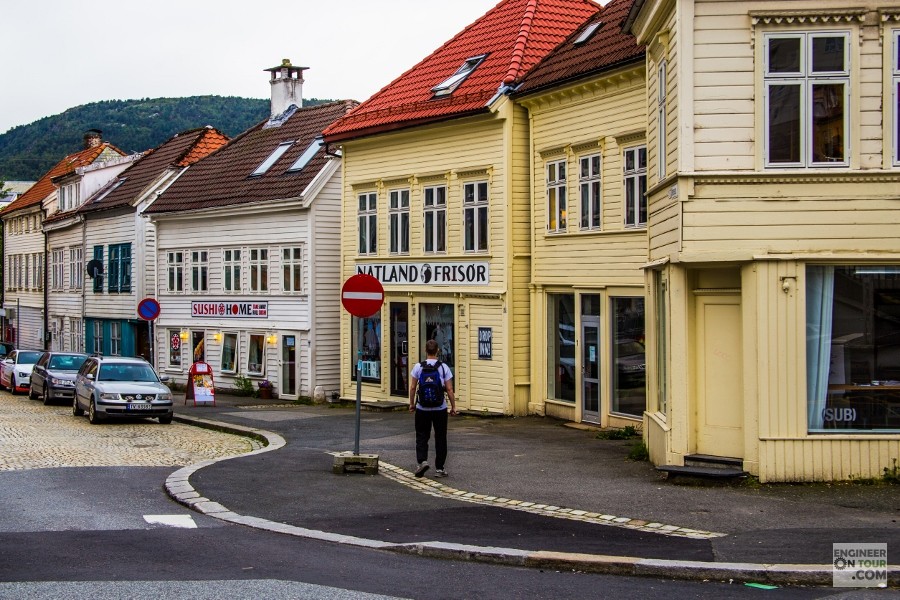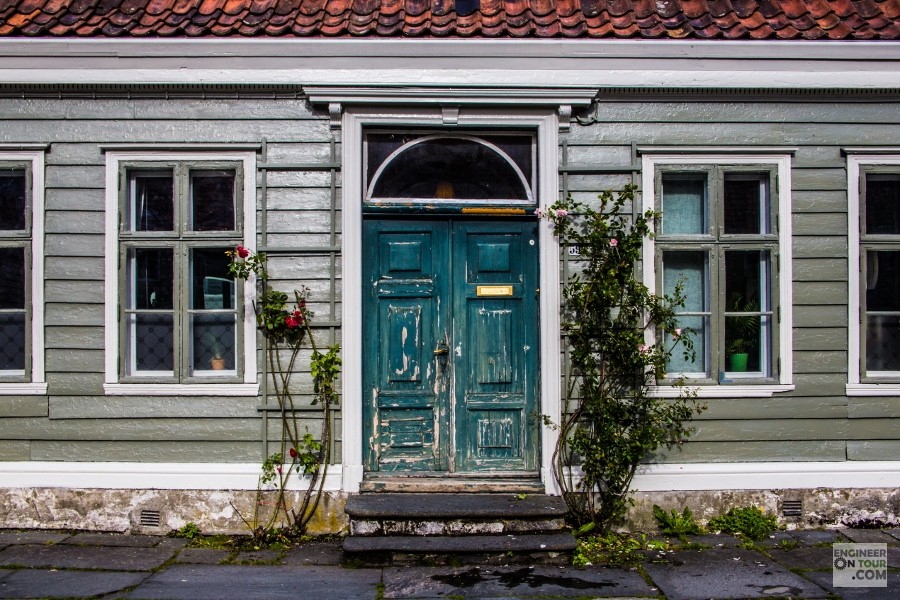 2. Boat tours
There are different boat trips, some take few hours, some take few days. If weather is good – that should be on the top of your list.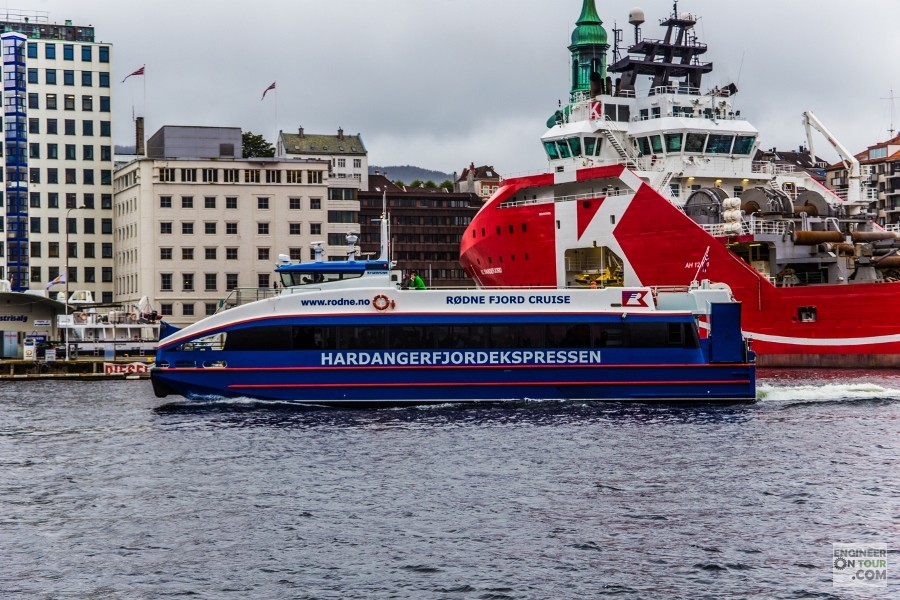 Alternatively, rent a kayak.
3. Get to know about Norwegian maritime industries
Bergen is related to maritime, so it really worth seeing how fishing and trade were developing, and to see how the industries look right now. There is a good museum of shipbuilding, you can see everything from the Norwegian ships of Viking times up to the ships in our days.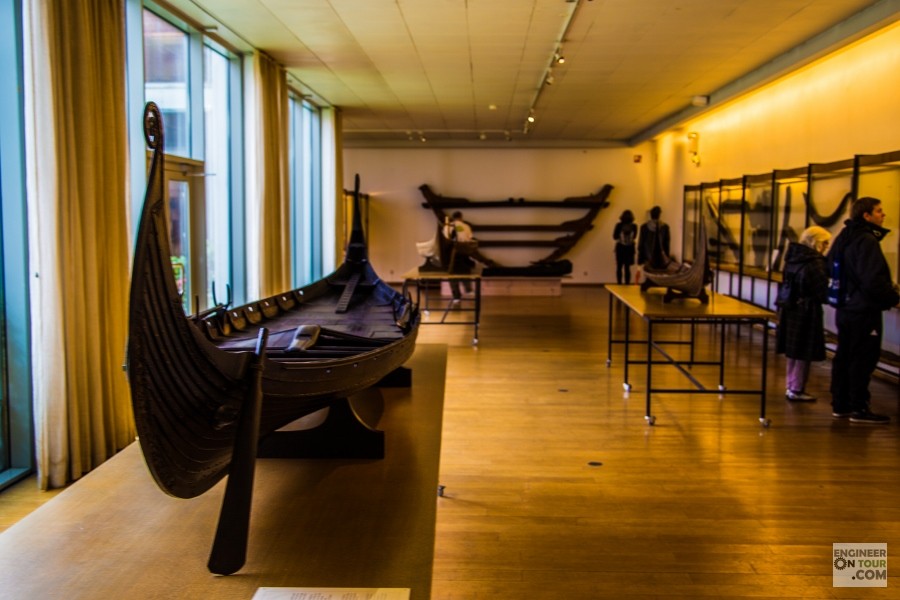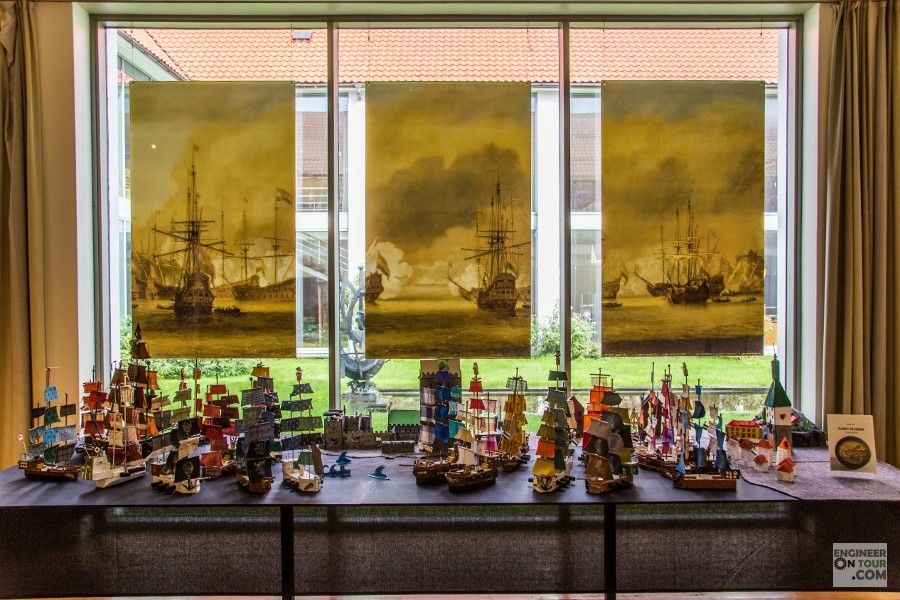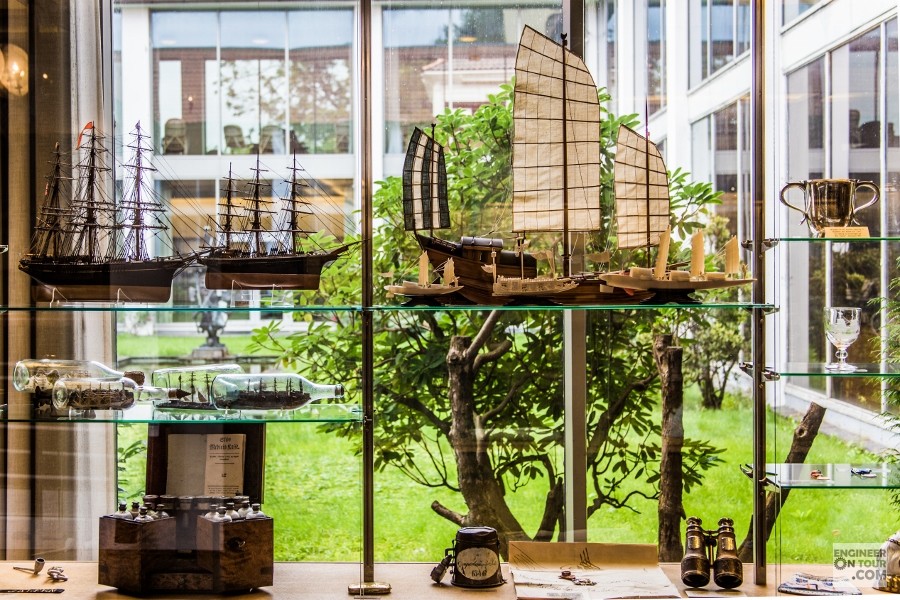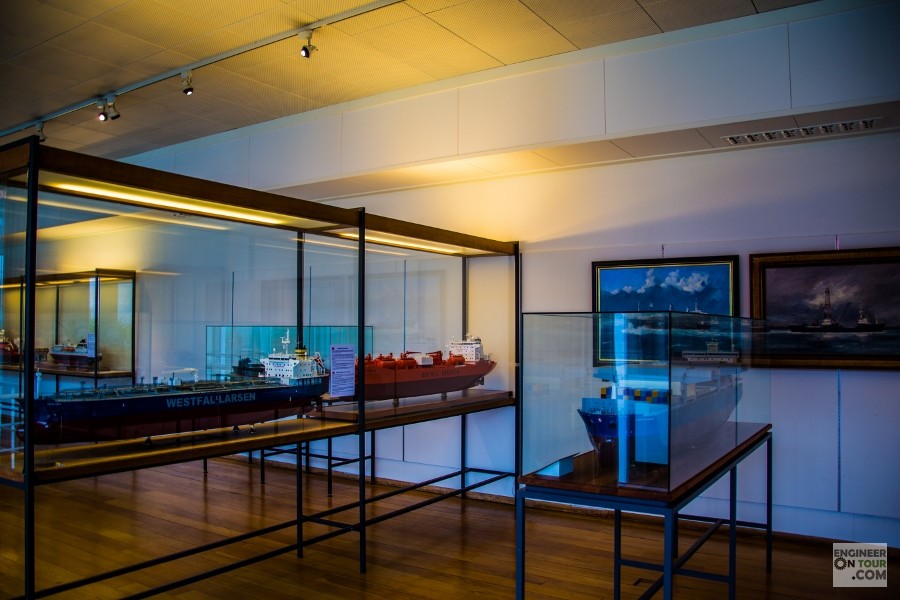 The Fishery museum would tell about the seafood produced in Norway and about technologies used. I found the museum a bit small, most of information is on computers, rather than on exhibition items.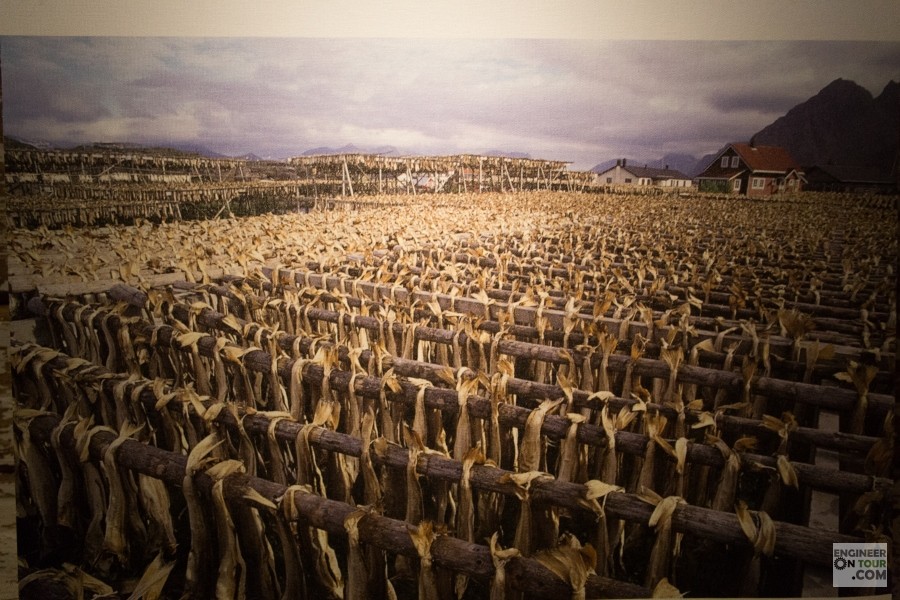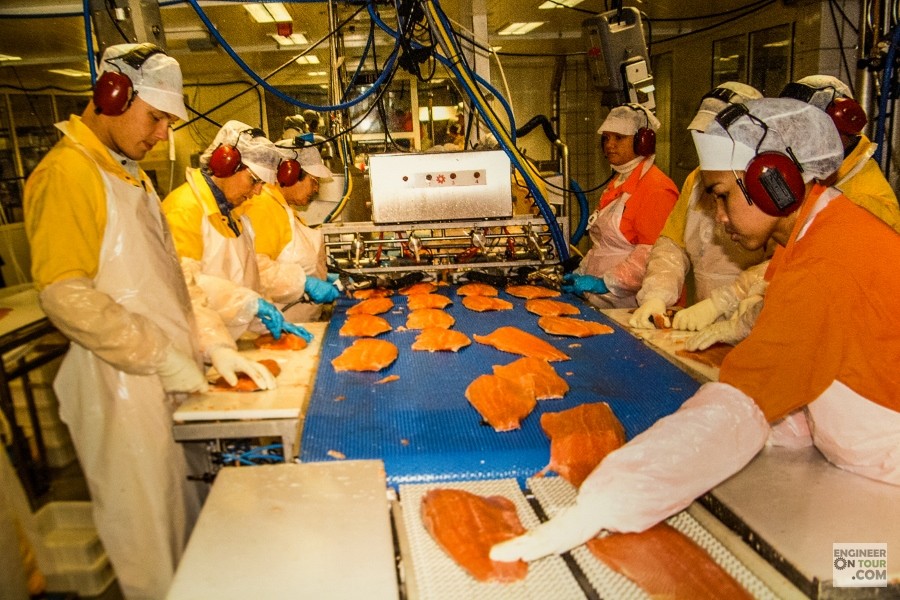 And actually on the way to the museum, you go along the shore side and see the modern Norwegian fleet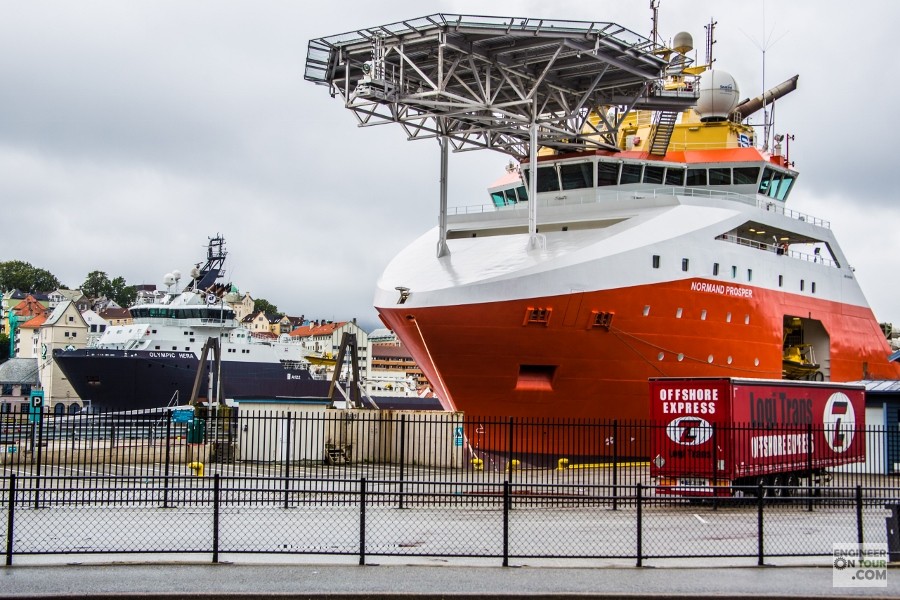 4. Try the seafood (and other national food)
There are plenty of national food restaurants, but I somehow prefer the noisy central market. Some of places on the market in summer work at late evening.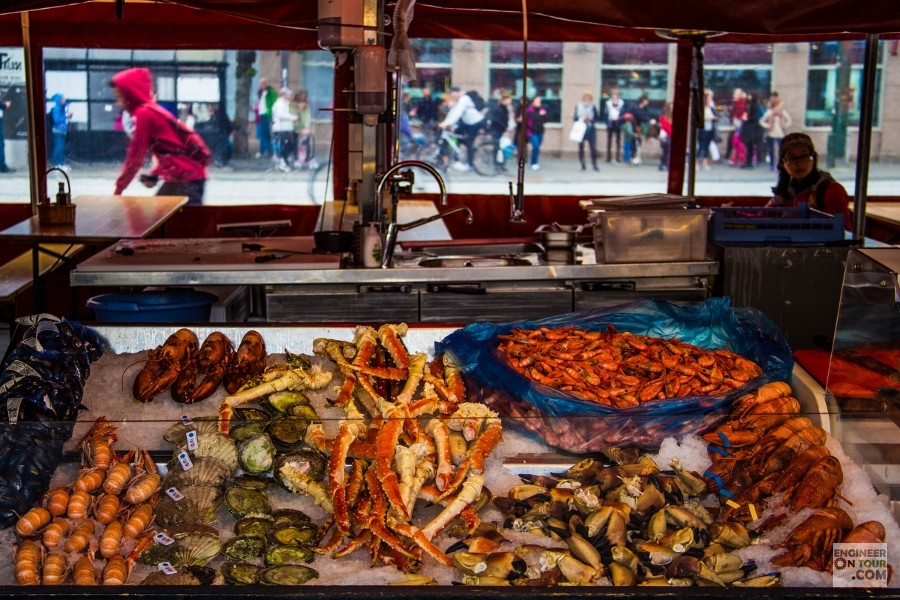 Alternatively, you can go along the Marken street and find the restaurant that suits your budget, there is supermarket at the end of the street.
5. See the city from above
There are seven mountains around the city. The mountain Fløyen is reachable from the city center. You get there on funicular or you can walk. I really liked the houses there, so I decided to walk the whole way up.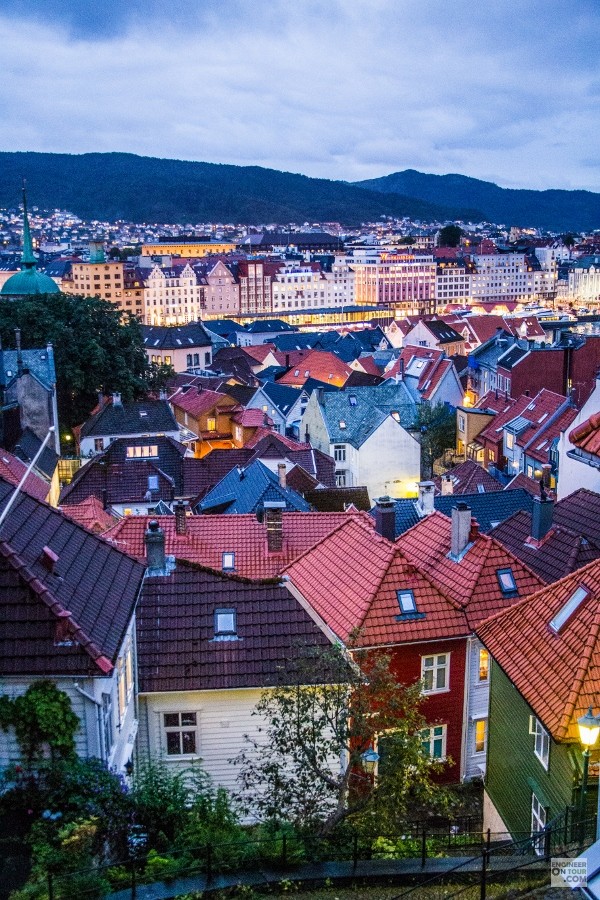 They tell that the best view opens from mountain Ulriken. And… I was unlucky. A bit disappointed with the cable car service. There were clearly seeing some tourists, looking for the beautiful view, and no one told that they are not going to see anything.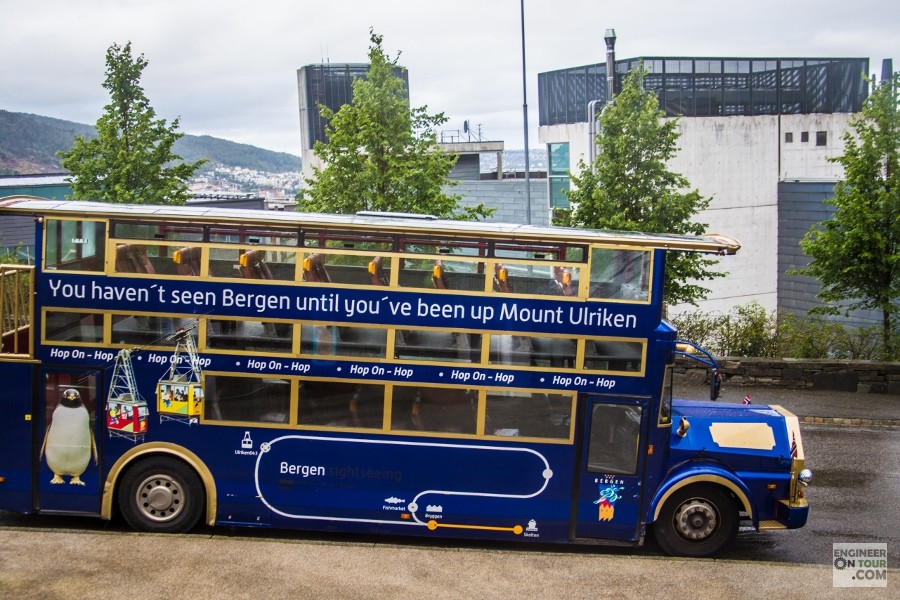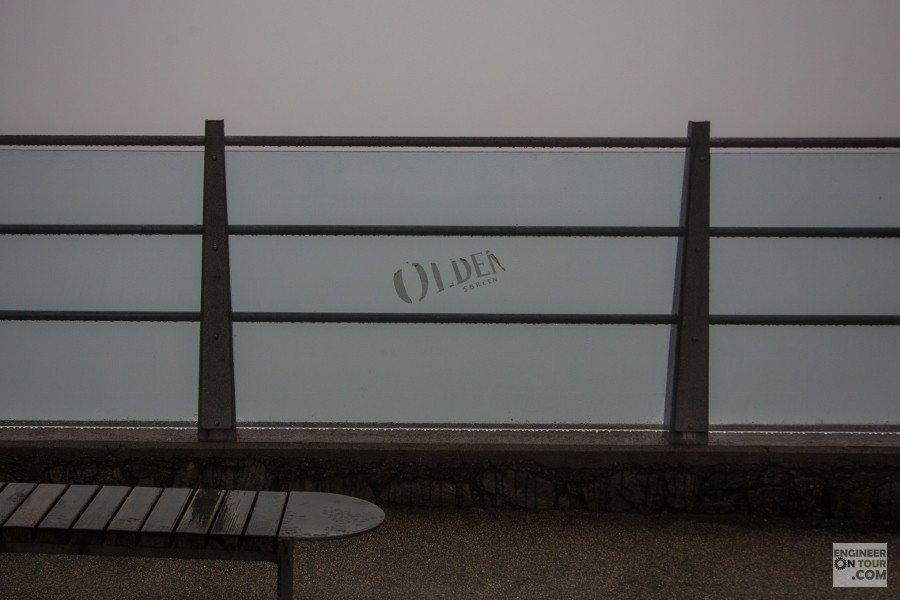 That is what you should see (taken from Flickr creative commons):
Few more things from the trip